Huskies Meet World at Robotics Championships
The Reno High School JROTC robotics team went to Worlds Robotics in Dallas, Texas. There were over 40 countries represented. The Huskies competed exclusively in the JROTC category with 80 teams. At one point during the three-day competition, the Huskies were in 2nd place. The team made it into the final 16, and were eliminated in the quarter-finals. This is only the second year Reno JROTC has had a robotics team, and they found their way to Worlds. I am so proud of this team, they have worked so hard. It was a dream come true just making it to Dallas, and then they made the final 16. An unbelievable amount of practice and passion and hard work went into this goal of getting to Worlds, I am beyond proud. The parents were pretty amazing too, they were live streaming the finals and blowing up my phone. The team captain was Leo Ketcham, and he got the team to Worlds last year. It was virtual because of COVID. This year Leo could not attend due to his AP testing schedule. Next year's team captain, Jazmin Tucker, stepped up and led the team while in Dallas.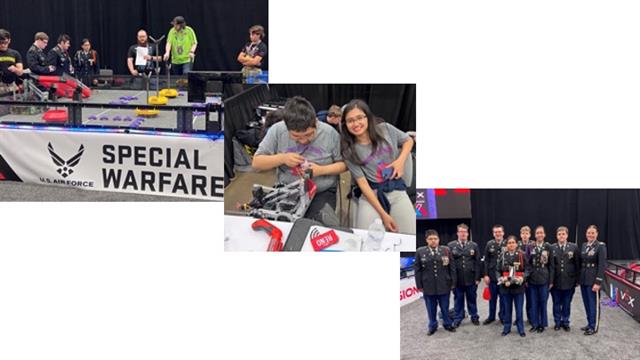 Cougars 3-pete at Kaiser Drill Meet
The SSHS Army JROTC Cougars Battalion Drill Team traveled down to Fontana, CA to compete in the Kaiser HS All Services Drill Meet and finished as the Overall Champions for the THIRD consecutive time. Yes, a three-peat!!

Armed Regulation Commander and the Color Guard Commander - Christian Lopez

Unarmed Regulation Commander - Landon South

Fitness Commander - Joliette Johnson

Color Guard Commander in the Novice category - Rachel Yazinka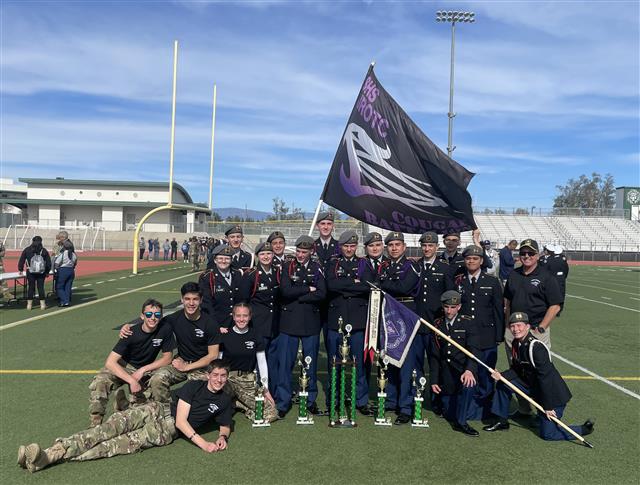 Huskies and Cougars Excel at JROTC Air Rifle Service Championships
On 3 to 5 February, the Air Rifle Teams from Spanish Springs and Reno competed in the JROTC Air Rifle Service Championships in Chandler, Arizona. Spanish Springs finished 15th of the 46 Army teams invited to compete nationwide - an incredible performance considering the team was made up of first-year shooters! The precision team finished 14th out of the 18 teams competing in Arizona and has been invited to the CMP Regional championships to be held in Utah in April. Reno finished 16th nationally, with Luken Leniz 14th , individually, out of the 237 shooters! Luken qualified for the JROTC Nationals to be held in March at Camp Perry, Oh.

Congratulations to all shooters and especially to their coaches for such a notable performance! We are proud of you!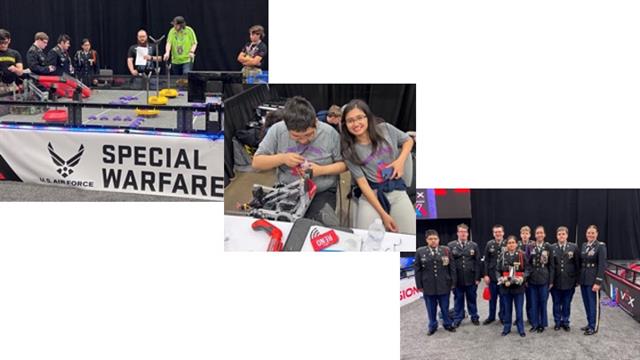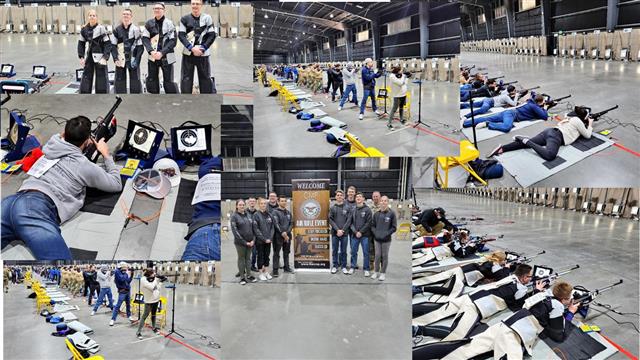 Highlanders Honor Veterans
On December 18, 2021, at 10:00 am, the Highlanders helped the Wreaths Across America at Lone Mountain Cemetery to remember and honor our veterans through the laying of remembrance wreaths on the graves of fallen heroes to remember and learn from their sacrifice. Although there weren't many JROTC students there, everyone around was glad to see students helping with this sentimental task. The graves of more than 1,000 veterans lie in Lone Mountain cemetery, from Civil War soldiers to servicemen and women of current times. It is important to remember them, and this opportunity was a great way to do so. Numerous volunteers of all ages placed wreaths on veterans' graves, thanking them for their service with a salute and a moment of silence. The highlanders, although not many, were freshmen, all the way to our own battalion commander helping out with laying the wreaths. We hope to help with this event for years to come!

Article submitted by Cadet Toby Pollard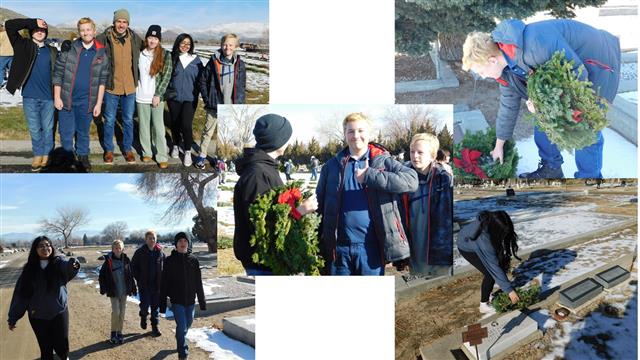 McQueen Color Guard Kicks Off Annual CLS/Strategies Basketball Game
The Lancer Color Guard for the annual CLS/Strategies Inclusive Basketball Game between Spanish Springs and McQueen high schools held on 3 DEC. This is one of our favorite events to support each year. About 500 McQueen students cheered on 25 fellow students with varying disabilities. These athletes had fun playing basketball and showing off the skills that hey had been fine tuning during practices for a month. Cadet Private Drew Miller marched out carrying the Nevada State Flag then presented arms while a student with down syndrome sang the national anthem. From start to finish, this is a truly heartwarming and memorable event that truly impacts the lives of hundreds that attend.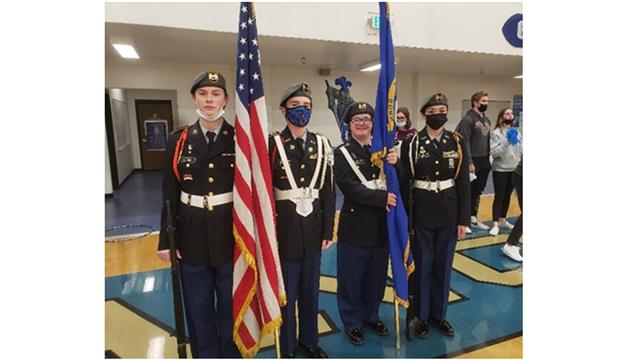 Reed Hosts 2021 High Sierra Classic Air Rifle Tournament
Edward C. Reed had the honor and privilege of hosting the 2021 High Sierra Classic Air Rifle Tournament again this year. This year's tournament was held this past Saturday and we utilized the WCSD portable target system located in Reed's large gym (pictured in the attachments). This allowed us to have 16-shooters on the firing line for all three squadding relays. The course of fire was a 3 x 20 with a final for the top eight individual shooters in both the old and new shooter category. The finals added some addition fun, excitement and a little more stress for the top 16 Cadets having to shoot another 10 record shots in the standing position. Scores added from the final are used to determine overall individual ranking when it is all said and done.

Top 3 teams:

SSHS A - 2090

Reed A - 2037

SSHS B - 1927

Top 3 Individuals (New):

Jacob Peer - 571.1 (Reed)

Benjamin Beaubien - 567.1 (SSHS)

Oliver Miller – 567.5 (SSHS)

Top 3 Individuals (Old):

Austin Galleron - 623.8 (SSHS)

Holly Hickson – 607.0 (Reed)

Evan Tate – 601.8 (SSHS)

Top 3 Prone Position:

Raine Creger- 194 (Reed)

Austin Galleron – 191 (SSHS)

Oliver Miller – 190 (SSHS)

Top 3 Standing Position:

Austin Galleron – 167 (SSHS)

Evan Tate – 163 (SSHS)

Holly Hickson – 160 (Reed)

Top 3 Kneeling Position:

1. Holly Hickson – 183 (Reed)

2. Austin Galleron 178 (SSHS)

3. Jacob Peer 176 (Reed)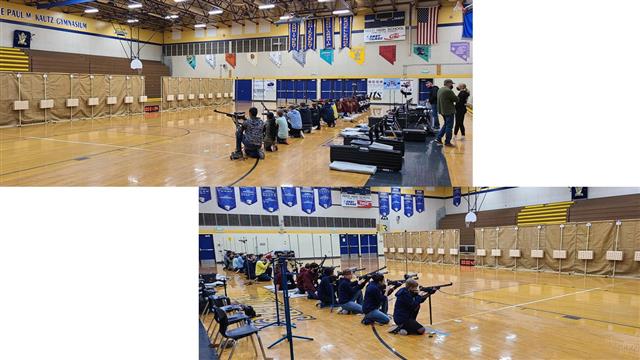 Lancers Help to Usher in the Christmas Season!
The Robert McQueen JROTC Lancer Battalion participated in the Sparks Hometowne Christmas Parade Saturday, 4 Dec. 2021. It was a beautiful day outside and the Cadets and all who were there had a real nice time.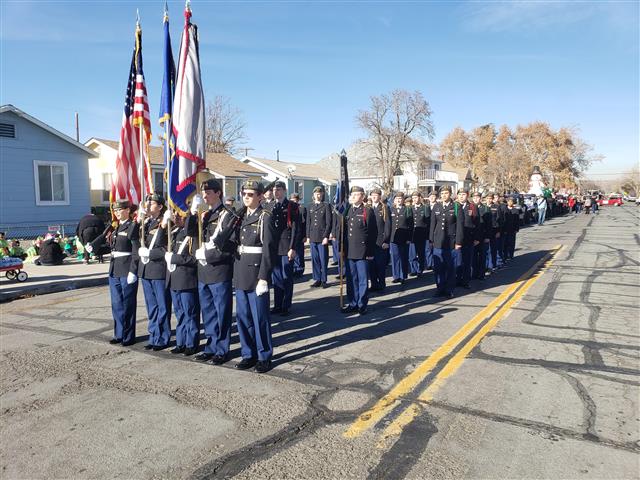 Throughout Nov. 18-23rd, the Incline Highlander JROTC Battalion hosted its annual Turkey Shoot. At this event, participants shoot for a chance to win a turkey. The Highlander Battalion raised a generous amount of money this year. Much of which went toward the Incline High School Rifle Team and our JROTC program. All by asking for three dollars for one target (three shots), or five dollars for two targets (six shots). This year, Mr. Hyams, Jose Gomes, and Evelyn Ramirez were the three winners in their respective divisions. The Highlander Battalion staff would like to thank all the Incline High School students, teachers, and Incline Village community members who came to shoot it out at this event. The Highlanders are eager and excited to throw this event again next year. We hope to keep this tradition alive and will see everyone again next year!

Article submitted by Cadet LTC Toby Pollard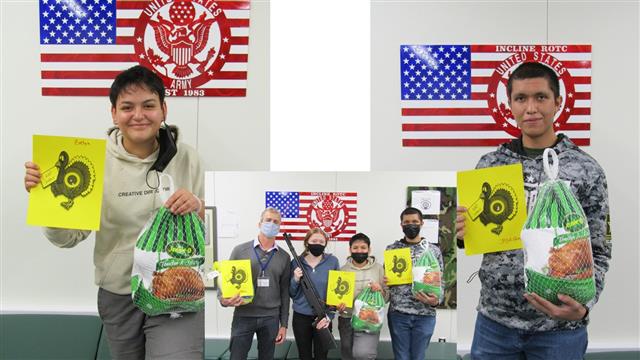 Lancers Honor Local Veterans
Veteran's Day week was a busy week for the Lancer Color Guard program. They did a fantastic job representing the school and our battalion in the community during this past Veteran's Week. Tuesday they were at the WCSD for the Board Meeting, Wednesday they presented the colors, visited students, and veterans at Westergard Elementary School. They then went to the Stone Valley Assisted Living and Memory Care facility where they presented colors to the veterans and then talked with them after. Thursday, we had the privilege to present at the annual Boys and Girls Club of Truckee Meadows event. Friday we were at the Smithridge STEM Academy. And finally, Saturday night, our team was honored to present colors at the annual Sierra Nevada Ch 989, Vietnam Veterans Dinner held at the National Automobile Museum. Great job McQueen Lancer Battalion.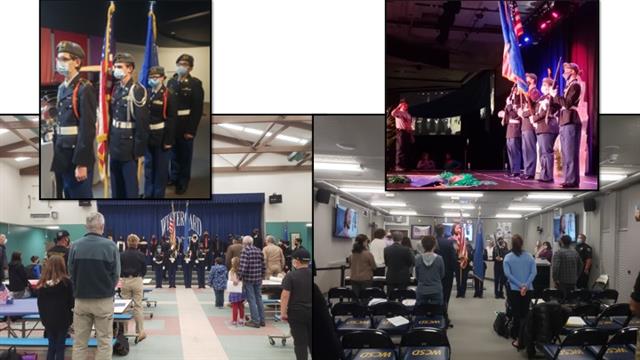 Colts Color Guard Leads off UNR Football Game
On November 6, 2021 Wooster Color Guard presented the colors at the UNR Football game vs. San Jose State University. The Senior ROTC Cadets were on a 3-day field Training Exercise and were not available to present the colors. Senior Program Cadet Terrell Calinog, a former Wooster Colt and current UNR Color Guard Commander, reached out to his High School alma mater for assistance. While the crowd of spectators was not as large as other games due to the weather, the experience for our Colt Color Guard was amazing. Wooster Color Guard Commander, c/CSM Abi Cabrera, was accompanied by c/MAJ Cheyanne Horton, c/2LT Isaac Johnson and c/SFC Trinity Griffis.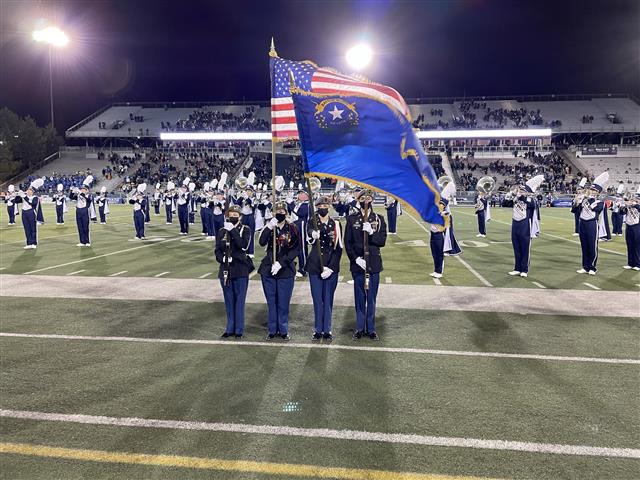 Cougar Battalion Raids Georgia
The Spanish Springs HS Army JROTC Cougars Battalion did an AMAZING job as ambassadors for our school, the WCSD, and the state of Nevada at the US Army JROTC Raider Nationals in Georgia Nov 5-7.

The Cougars earned 2nd Place overall on the 5K for the Male Team, and the Female team finished in the top 5 in three of their four event categories.

Cadet Joliette Johnson capped the weekend off by beating female cadets from 45 other JROTC programs in the southeast and capturing the title as the Ultimate Raider Champion! After running two miles the final obstacle in her event was the 9 foot wall which she climbed over on her first attempt, whereas two other females made it to the wall before she did but it took them 3 minutes or more to finally make it over.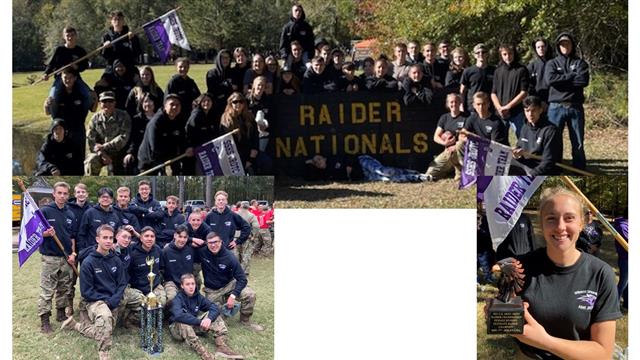 This past Saturday, on October 23rd, McQueen High School held the Silver State Brigade's second drill meet for the school year of 2021-2022. At this drill meet multiple schools attended including Spanish Springs, Reed High School, Galena High School, Sparks High School, Hug High School, McQueen High School, North Valleys High School, Reno High School and Carson High School. During the drill meet they hosted multiple competitions ranging from unarmed Regulation to armed exhibition, Color Guard and even Duals.

Each Battalion's performance was judged by UNR ROTC Cadets, Army and Navy recruiters. Graded performance was recorded on a scoresheet which was then graded and decided which school scored best in which category. They decided first, second and third place for each event and announced it at the end, in front of the brigade. The Drill Meet was fun for a lot of cadets and had them excited and thrilled for a competition such as this, though it was all for fun, it inspired cadets to do their best and make the most of it.

Article Submitted by C/Major Jazmin Tucker, SSB S5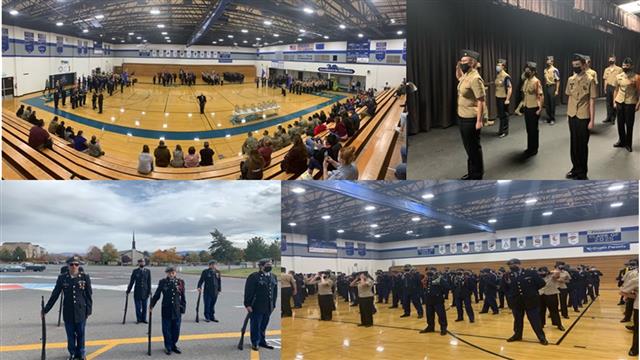 Reed "Raids" Panther Challenge Drill Meet
On Saturday, September 25th, the Reed Raider Battalion participated in the first drill meet of the 2021 season. Every year, the Silver State Brigade hosts four Drill Meets, with the Panther Drill Meet being the first. Junior Reserve Officer Training Corps (JROTC) Battalions from all across the Washoe County School District, including our very own Raider Battalion, participate in these drill meets. Each drill meet has several events, including Unarmed Regulation, Armed Regulation, Color Guard, and Inspection team.

Last year was a difficult year for the Raider Battalion. Between COVID-19 and various other complications, Cadets had a difficult drill season. Despite these difficulties, our battalion came back strong and ready to win. The Raider Battalion participated in five events at the Panther Drill Meet. We took first place in the Color Guard and Inspection Team events, second place in the Academic Bowl, and fourth place in the Unarmed Regulation event. Additionally, the first-place winner of the Drill Down with over one hundred participating Cadets was Reed's own Cadet Petty Officer First Class Adam Hillyard.

These victories did not come easily; they were the result of weeks of hard work and dedication. Cadets performed the same sequence several times over, and their efforts clearly paid off. Recognition is owed as well to the team commanders who gave up even more of their personal time to see their teams succeed.

With sights set on future drill meets, the Reed Drill Teams are only going to improve.

Article Submitted by Cadet Ensign Waller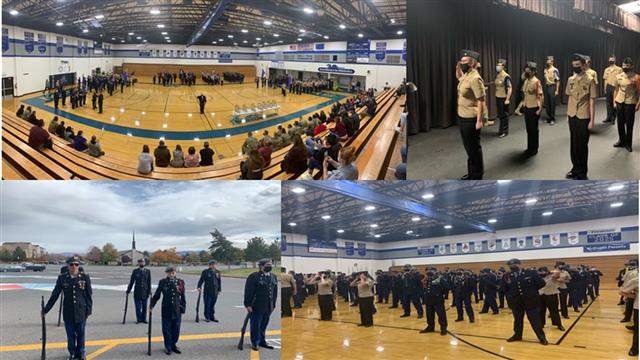 Galena Drill Team Meets Panther Challenge
On 25 SEP 2021 Galena JROTC traveled to North Valley Drill Meet. The Galena Drill Team was excited to compete against fellow Cadets from the Silver State Brigade. The Drill Meet did not disappoint. Galena JROTC was thankful to take 1st in Armed Regulation, 3rd in Unarmed Regulation and 3rd in Color Guard. Thank you North Valleys for hosting a excellent drill meet!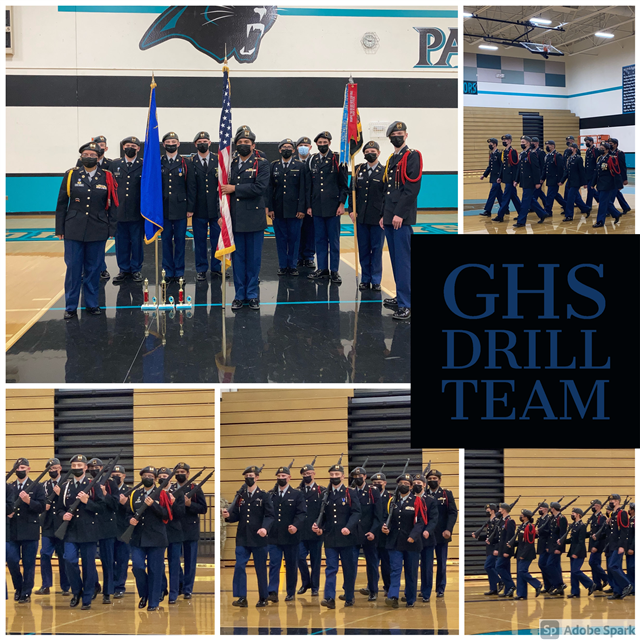 Lancer Cadets "Horsing Around" for a Good Cause
Recently, Cadets from Robert McQueen High School Lancer Battalion visited the RenoRescue Horse Ranch in Verdi, Nevada. It is a charity that rescues abandoned or maltreated horses and provides therapeutic riding for people in need. The Cadets raised money for the organization and volunteered services by relocating metal railing, moving irrigation piping, cleaning saddles and other tack as well as grooming and feeding horses. They also performed "area beautification" operations cleaning up manure…big smiles. Somehow, they also found time for a BBQ, games, and the obligatory fun with water balloons.

Lancer Pride!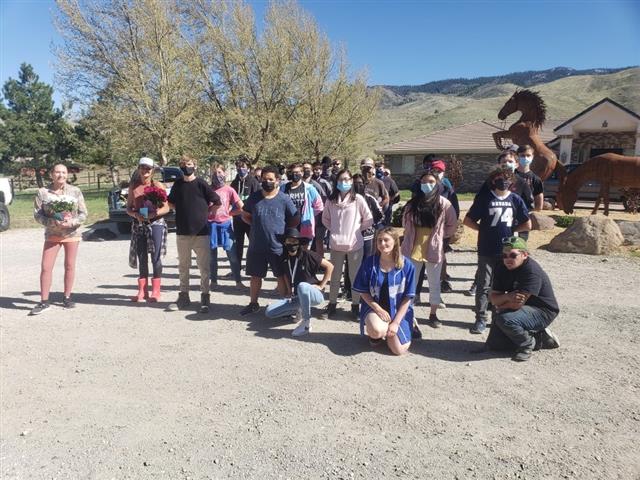 The Grizzlies Host a Car Wash Fundraiser
On Sept 11, 2021, The Galena JROTC unit held a carwash to offset the cost for Cadets to attend the Military Ball. The carwash started as a fundraiser and ended up fostering a high level of esprit de corps among the Cadets and the community. Thank you 7-Eleven for allowing Galena JROTC to use your parking lot.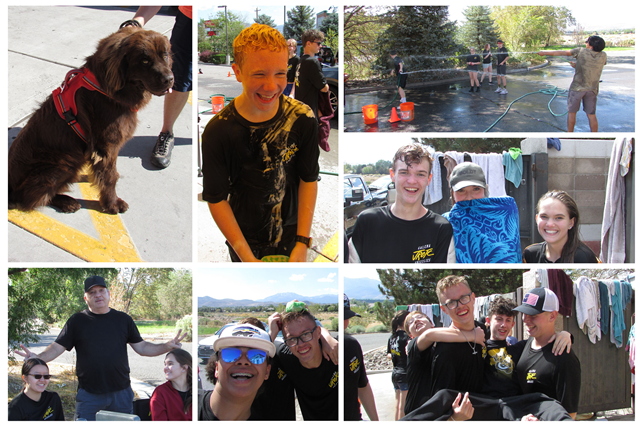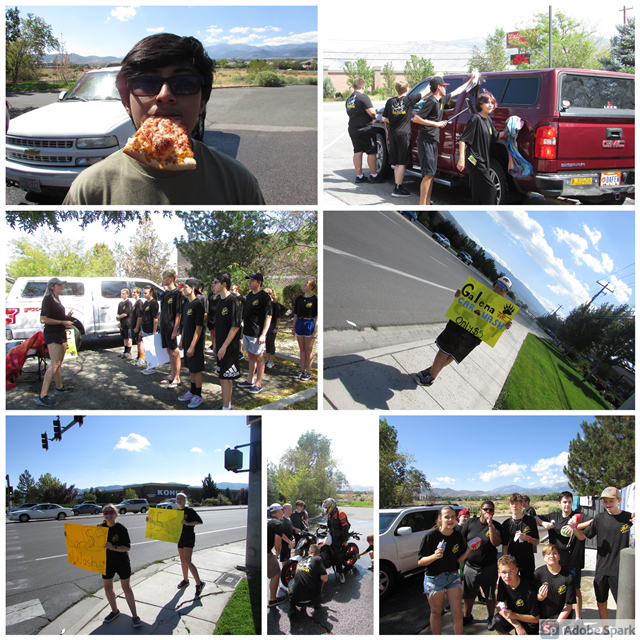 Reed Cadets Host "Welcome Aboard" Event
By Cadet Petty Officer Brock Biggs

The Edward C. Reed High School Naval Junior Reserve Officer Training Corps (NJROTC) hosts an annual Welcome Aboard Party for Cadets at the beginning of each year, centered around the incoming Cadets. This event serves as a perfect opportunity to integrate and familiarize the new Cadets with their peers and leadership. NJROTC always puts the Cadets first and foremost, ensuring that they are successful and that fun is inclusive as a part of the Cadet's experience.

Many great amenities include plenty of food and water, music, and various exciting activities and games for the Cadets to indulge in, all the while supporting our local food bank! Each Cadet is required to bring at least two cans of non-perishable food items for entry. Of course, none of this is possible without the help from our leadership and patrons, who actively support the program. We strongly believe that hosting events stands as a testament that we put our Cadets above all, and it shows that while our program is serious, we can have fun in the process!

Part of what makes this program so unique is the camaraderie amongst Cadets and leadership. The core of what makes a unit function is having that intricate connection with one another, and others have noticed this and gotten a sense of just how united we are. We want this connection to benefit fellow Cadets in need and show that unconditional friendship with another. Because once that is achieved, there is nothing that we cannot accomplish. Furthermore, hosting events only amplifies this connection and therefore allows great potential for leadership roles. The Welcome Aboard Party is just a taste of what this program offers. We look forward to all future events that we offer throughout the year and seeing the Cadets become the best they can be. HOOYAH NAVY!

Article submitted by Cadet Petty Officer Brock Biggs
Raider Battalion Cadets Visit Fallon N.A.S.
On September 3rd, 2021, the Reed Raider Battalion participated in its first field trip of the year. Cadets traveled to the Naval Air Station (NAS) in Fallon, Nevada. Home to over three thousand active-duty personnel, it is the largest Naval base in Nevada and has the largest Navy Airstrip in the world. Making it even more noteworthy, it is the headquarters of the famous Top Gun, which is comprised of the most elite pilots in the Navy. The NAS Fallon field trip was a rare opportunity that Cadets were eager to be a part of. The Naval Junior Reserve Officer Training Corps (NJROTC) Battalion at Damonte Ranch High School also attended. Between the two schools, fifty Cadets came, and every spot had been filled within two weeks of the field trip's announcement. The NAS Fallon field trip was an experience to remember for everyone involved. Throughout the trip, F-35's could be heard and seen flying right above the Cadets. Cadets were given an incredible tour of the base, including the air flight control tower. As Cadets were shown several displays of military aircraft, Commander Van Buren, the Senior Naval Science Instructor at Damonte provided quality jet fighter aircraft information to the Cadets based on his experience as an F-18 combat Naval Aviator. Following the static display tour, Cadets were taken to the Search and Rescue Hanger where they got to sit in a Blackhawk helicopter and were allowed to watch a demonstration by the NAS Fallon Search & Rescue team.

Pictured below: Cadets pose in front of an F-16 static display and participate in a Search and Rescue demonstration

Article submitted by Cadet Ensign Waller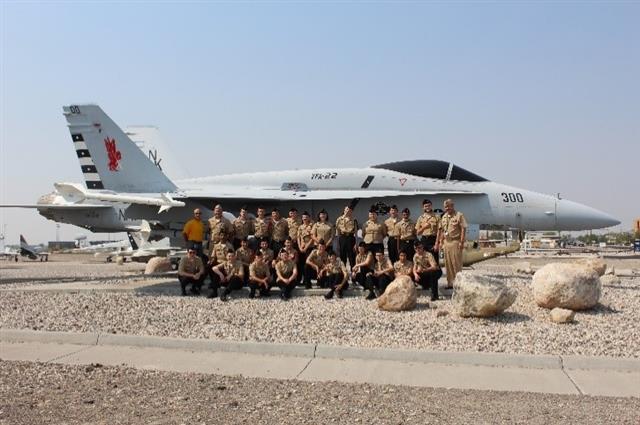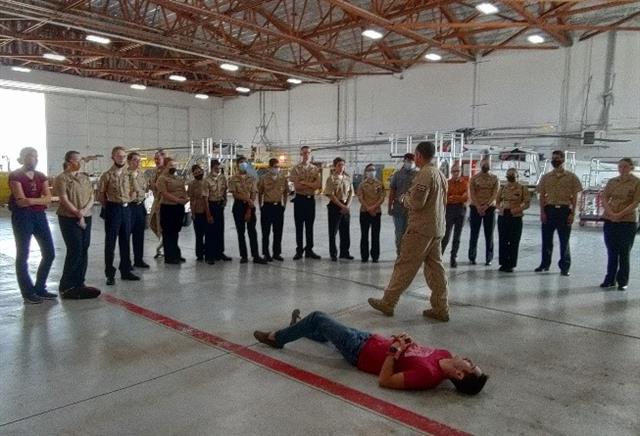 Reed Cadets Visit Reno Air Races
On Thursday, September 16, 2021, the Reed Raider Battalion participated in its annual Reno Air Races fieldtrip. For more than ten years, Cadets from Reed have been making memories at the Reno Air Races, making this event is one of the battalion's longest-standing field trips. Cadets were allowed to enter the Science, Technology, Engineering, and Technology (STEM) tent; a spot filled with interesting and groundbreaking technology. Throughout the entire fieldtrip, Cadets could be seen interacting with 3D models and other STEM-based technologies. Cadets also toured static displays of helicopters, jets, and planes, including the C-7. All the while, overhead F-35's and U-2's could be heard tearing through the skies. Various events were taking place and groups of Cadets would explore the countless activities offered at the Reno Air Races. No matter where they were, or who they were with, all of the Cadets had a wonderful experience. The Reno Air Races field trip has always been and will continue to be, a cherished time for the Cadets of the Reed Raider Battalion.

Pictured Below: Reed Cadets investigate the STEM display and pose in front of the control tower

Article submitted by Cadet Ensign Waller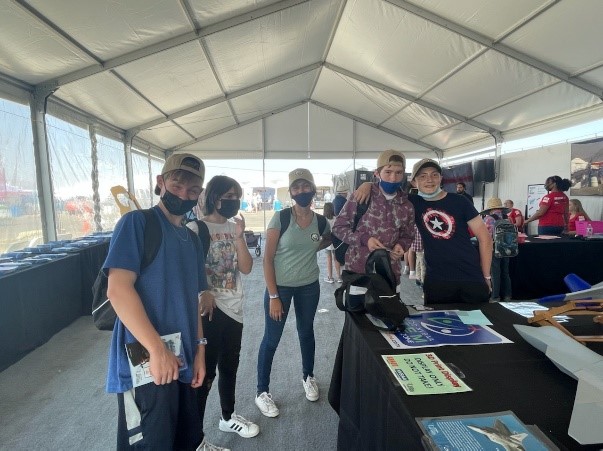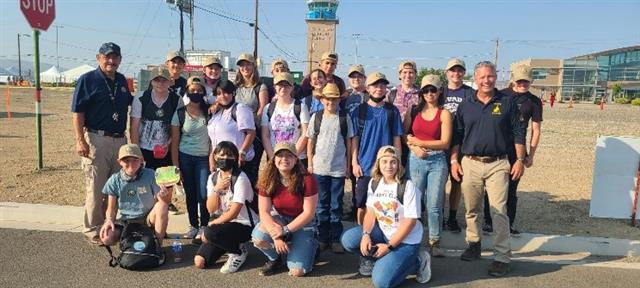 Chief Prell Receives Gold Distinguished Instructor Award
On Thursday, August 26th Chief Patrick Prell (USN)(RET.) was honored and awarded the Junior Reserve Officer Training Corps (JROTC) Golden Instructor Award. Chief Prell has been an instructor with Reed Raider Battalion for eight years. The award was presented by the local JROTC Silver State Brigade Commander, Lieutenant Colonel Scott Caldwell. This award was given in recognition of Chief Prell's dedication to the Cadets and the Battalion. Over the years, Chief Prell has guided and taught hundreds of Cadets. Nothing demonstrates this better than Chief's words when he received the award: "It's a pleasure to be teaching and inspiring Cadets; giving them the tools they need in the toolbox to become young adults." I speak on behalf of all our Cadets when I say there is no one we would rather have as an
instructor. We look forward to a great year under Chief Prell's leadership.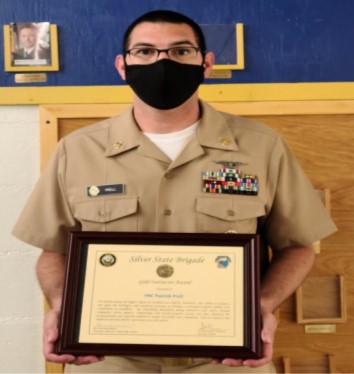 Raider's Freshman Marching Camp
Freshman Marching Camp was held July 29 and 30. It is a two-day event in which our incoming freshman Cadets learn about the Naval Junior Reserve Officer Training Corps (NJROTC) program. To start off the event, Cadets were separated into three platoons: red, white, and blue. On the first day, Cadets cycled through three rotations of training each with a unique subject; the first being a class on leadership taught by Cadet Commander Daso. Cadets were taught they must show initiative to excel within the program. The second rotation was "ROTC 101" led by Cadet Petty Officer Maile. This class taught Cadets the structure of NJROTC, as well as introduced important information including the Chain of Command and how to properly wear their uniforms. The final rotation, "Marching 101", was taught by Cadet Lieutenant Bock. This rotation taught Cadets the basic movements and commands of drill. While the first day of the event was not particularly physical, the second day was all about hands on learning and team building. These activities, such as tug of war and Australian trollies, showed the Cadets that NJROTC is about working together and providing healthy competition to keep motivation and morale at an outstanding level. During Freshman Marching Camp, an emphasis was put on the principle that NJROTC is a family, regardless of rank, position, or grade level. As Cadets, we strive to support each other and work as a team to be the best we can be. A Cadet's ability to respect and care for each other; that is what NJROTC is all about.

Article submitted by Cadet Petty Officer Mousaw

Pictured below: Raiders incoming Frosh; Cadets conduct team building activity called the Australian Trollie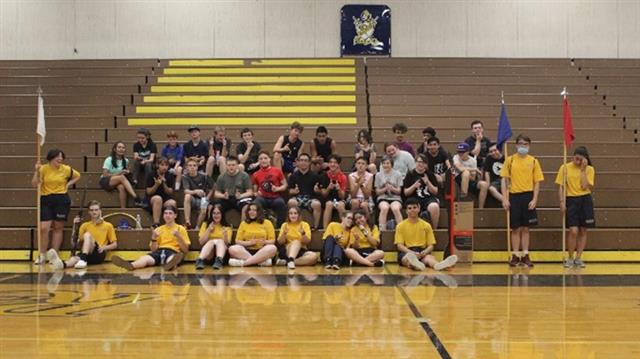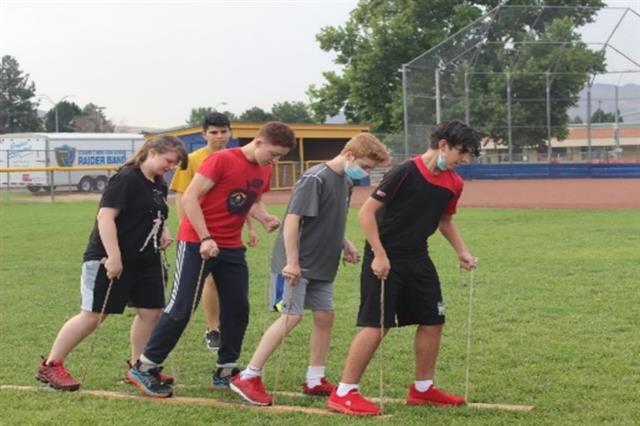 Reed Raiders Support Hot August Nights
On the 6th and 7th of August 2021, Cadets from the Reed Raider Battalion participated in the program's first fundraiser of the year. Throughout the event, Cadets demonstrated their dedication to the Battalion and their task. Despite the school year having not even started yet, more than a dozen Cadets answered the call to participate. The fundraiser was a cooperative effort with the Hot August Nights organization in which Cadets pushed cars for the annual action. This was the Battalion's third year in a row assisting with the auction. Every year, Cadets have managed to impress the individuals responsible for organizing Hot August Nights with their dedication and positive attitudes. Cadets worked for hours pushing heavy vehicles in a smoky environment without a single complaint. By the end of the fundraiser, several of the Cadets were even competing to push the heaviest vehicles by themselves. Everywhere you looked you could see Cadets working hard and having fun. This event resulted in the Battalion gaining both prestige and valuable funds. When it was all said and done, the Cadets earned nearly two thousand dollars; money that will allow Cadets to participate in fun field trips and events. If this fundraiser is any indication, the Battalion is going to have a great year!

Article submitted by Cadet Ensign Waller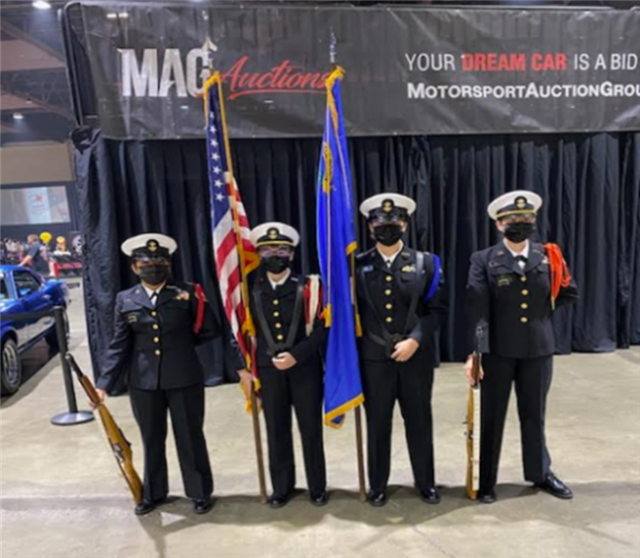 Hawk Battalion Academic Team Competes at National Championships
For the first time in Hug High School JROTC history, the JROTC Academic & Leadership Bowl (JLAB) academic team was selected to compete at Nationals against more than 60 other teams from around the country. Hug navigated the two preliminary rounds from among 3000 other teams to qualify for the Nationals which was conducted in July. It was an amazing opportunity for everyone involved, and Hug made it to the semifinal round; a very impressive showing from Hug's team. The competition itself was something we were very proud to be a part of, as it brought together the best teams from schools around the country, and we were even more proud to place 14th among the 32 Army teams who competed at Nationals. Hug's academic team had the opportunity to meet and interact with cadets from Navy, Air Force, and Marine Corps JROTC programs enhancing their overall experience. The competition was fierce, and Hug was eventually eliminated from competition by the Army team that would go on to compete in the JLAB joint service championship, but ultimately falling short to an Air Force team from California. Opportunities presented to us by JLAB didn't just extend to the competition, either - we were able to spend our free time exploring the city and going to many of our national monuments. These included the Lincoln Memorial, Washington Memorial, the White House and Arlington National Cemetery. This awe inspiring and enriching experience was a memory of a lifetime and not one we will soon forget. Although we earned this trip to Nationals, it would not have been possible without the excellent support from our teachers and staff, our JROTC program instructors, and the support of our parents. The Hug academic team were also members of the GATE Institute, and the Advanced Placement classes we have taken in that program also factored into our high placement at the competition. This year's academic team hopes to repeat a visit to Washington D.C. with the aim of winning it all!

Pictured Below: The Hug High School JROTC Academic Team: David O'Grady, Saeed Calderon, Minhazul Oysharzo, and Emmalee Snyder, accompanied by their coach and female chaperone: LTC Clark and SSG Arzola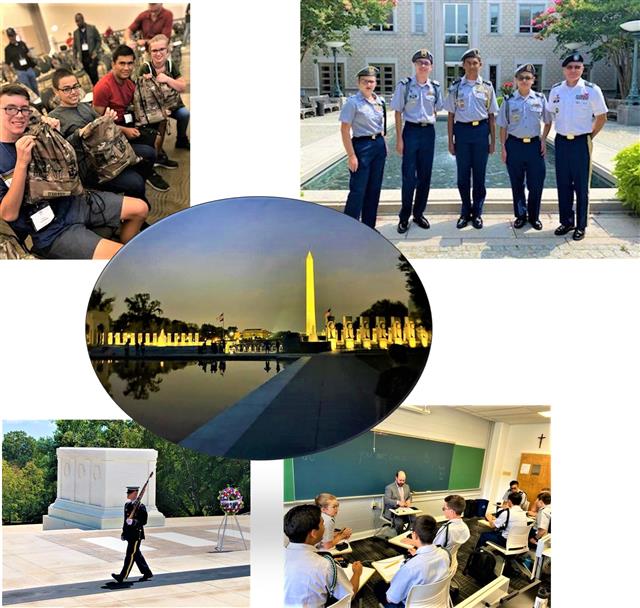 The Lancers Honor those lost on 9/11
The Lancer Battalion conducted a Joint Color Guard and wreath laying last weekend with the Sparks FD and Sparks PD at the Sparks Veterans War Memorial. The event commemorated the 20-year anniversary of September 11.

The Battalion also conducted a Joint Color Guard (that included the Reno PD) at the Sparks Marina at 5:00 pm that day in commemoration of September 11. Both events were great ways for our team to be involved within the community, represent themselves and JROTC, McQueen H.S., and their patriotism.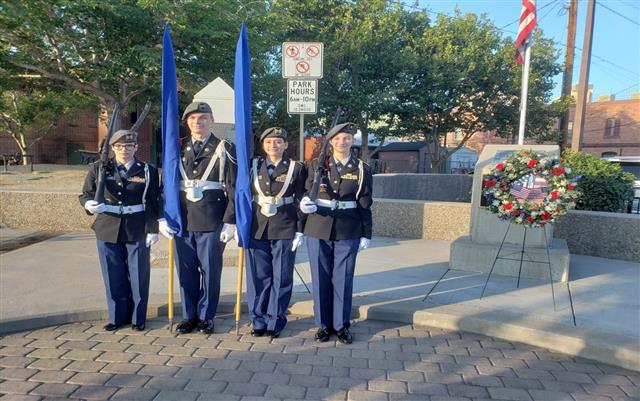 Reed Raider Battalion Supports the Balloon Races
Saturday and Sunday Cadets from the Reed Raider Battalion got-up before the "crack of dawn" in support of a fun and exciting community service event. The annual Reno Hot Air Balloon Races. A total of sixteen Raider Cadets supported the Children's Cabinet "Balloon Crew." The Cadets assisted in rolling-out and inflating the Children's Cabinet hot air balloons. Afterwards the Cadets provided the needed manpower for tethering the two Hot Air Balloons in providing balloon rides for over 500 children. Two perfect days for this breath-taking event.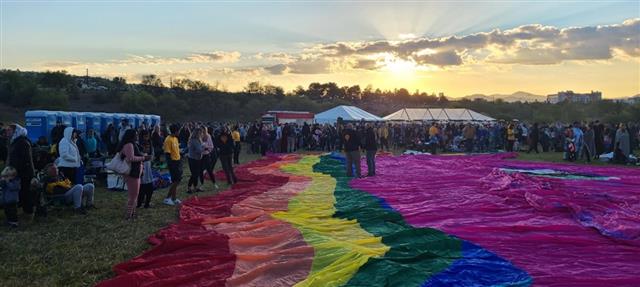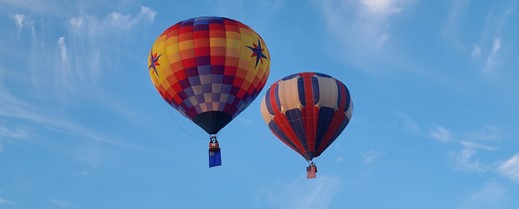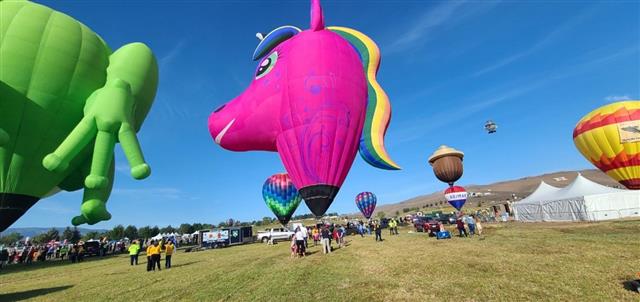 Reed Raider Color Guard Supports Tailhook-21 Banquet
Chief Prell and his amazing Color Guard Team supported Tailhook-21's awards banquet at the Sparks Nugget Casino Resort. After the Color Guard completed presenting the Colors for the opening ceremony, Chief Prell and his team were treated to a top-notch lunch buffet.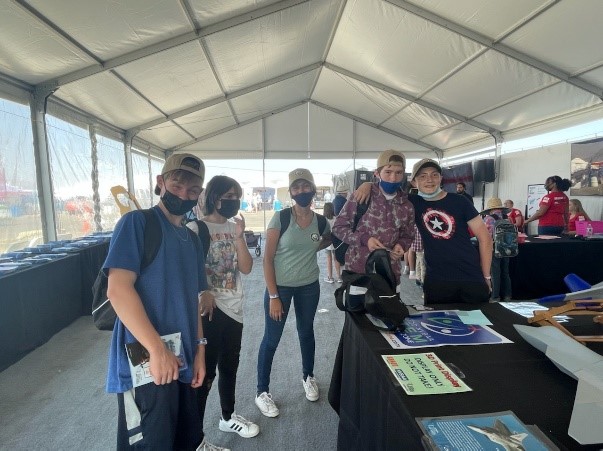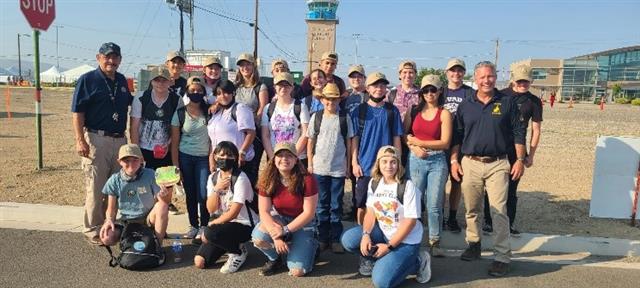 The Superintendent's Elite Color Guard kicked off the 21-22 school year with its first event on 27 August at the Peppermill. This super Color Guard unit presented our National Colors and lead the Pledge of Allegiance to start off the National Conference of State Liquor Administrators.

The SECG is trained and led by the Silver State Brigade Command Sergeant Major C/CSM Chloe Bonnenfant of the Huskie Battalion at Reno HS. The unit consists of two Cadets selected from each of the 11 JROTC programs in the district. If you would like to have this unit support your event, contact 1SG Ed Vaars at 775-333-5050 Ext 34116 or evaars@washoeschools.net.

Photo Caption: The SECG, led by C/CSM Chloe Bonnenfant conducts final rehearsal and uniform inspection prior to presenting the colors.