Reno Huskie Battalion Robotics Team Inaugural Success
As Army JROTC begins to explore technology as part of its integrated curriculars, the Huskie Battalion fully embraced the new JROTC Robotics programs this year, despite this being a "Covid" year and has set the bar high for their peer JROTC programs. The stadium and robot were built entirely by the Huskie's Robotics team (Leo Ketcham - Captain, Matthew Gerard, Cooper May, Megan Mellor and Oscar Colbert). The competitions were virtual so the team had to use their ingenuity to mount cameras inside their competition room and speak with judges over the phone to coordinate their runs. The team finished 6th in the Nevada JROTC category for autonomous and manual competitions and placed 22nd at the JROTC Worlds! The VEX competitions were held virtually this year but were based out of Las Vegas. They also received the Amaze Award in the JROTC category for their amazing, well built, and consistent robot! Congratz Huskies!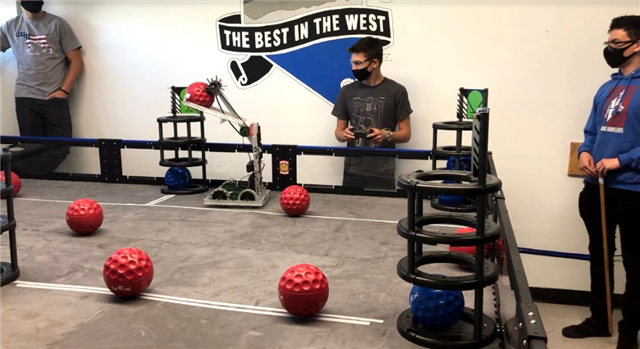 JROTC Superintendent's Elite Color Guard Honors Reno Veterans
With the cancellation of the Reno Veterans Day parade this year due to the Covid-19 pandemic, the city's parade commitee is putting together a virtual celebration and reached out to the Washoe County School District, JROTC Silver State Brigade, Superintendent's Elite Color Guard (SECG) to present the national colors and national anthem. The SECG and the 2,000 Cadets of the Silver State Brigade are one of the largest parade units every year, coming out in force to honor Reno's veterans. The VA hospital in Reno reached out to the SECG to partner for this virtual event. The Silver State Brigade Cadet Command Master Chief, Shelbie Phillips is the SECG leader and coordinator - "All cadets that participated in the video did a phenomenal job, I am very impressed by each and every one of them. I'd like to say thank you to Shane Whitecloud for coming out and recording this event for us and singing the national anthem, we could not have done this without him." The Silver State Brigade consists of the 11 JROTC programs in the WCSD - 8 Army, 2 Navy and 1 Air Force. Members of the SECG come from every one of these 11 programs. 1SG Ed Vaars, the Silver State Brigade Cadre Training and Operations Manager mentors the SECG. Cadets of the SECG supporting this event were - Jessica Frank (Hug), George Mitchell (North Valleys), David Hearron and Ian Halsey (Damonte Ranch), Jorge Pelayo (Sparks), Chancellor Hudnall (Spanish Springs), Emanuelle Pelayo (Wooster), Brody Martin (Galena), Leo Ketcham (Reno), Sara Flanary (Reed), Teyah Rodriguez (Spanish Springs), Alan Ramil (North Valleys Alternate), Audre Saute (Galena Alternate), Skie Vertz (Reed Alternate). Click on the link below to watch the video.

Superintendent's Elite Color Guard Veterans Day Virtual Event Video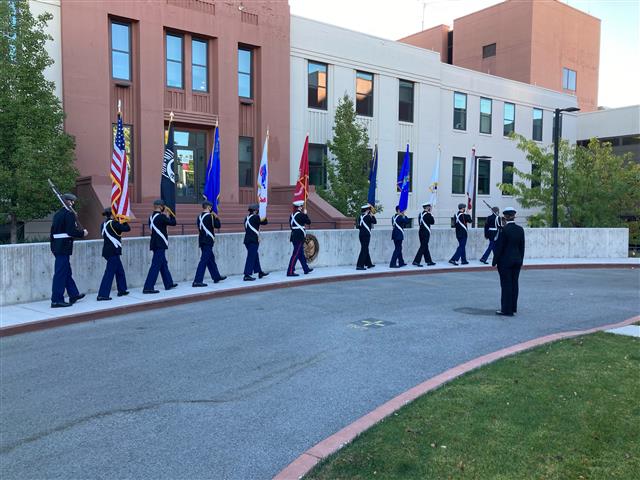 North Valleys Panther Air Wing Honors Veterans
The North Valleys High School JROTC Cadets created a personalized video to honor their veteran graduates. Please click the link below to watch the video!
Reed Raider Battalion Celebrates Navy Birthday
A cake cutting ceremony was held on October 16th to celebrate the Navy's 245th birthday. This is an annual tradition for the Reed Raider Battalion which involves three people who cut the cake, the youngest and oldest cadets in the Battalion as well as a school administrator. The assembled Cadets listened to a video message from the Secretary of the Navy, The Honorable Kenneth Braithwaite, followed by remarks from the Battalion Commanding Officer, Naomi Brockway. Her message was clear, "as a Battalion we'll conquer through the new normal and the challenges we face."

The Battalion Commander, alongside the Cadet Executive Officer and Cadet Master Chief, have done an amazing job setting the example for the rest of the Battalion. Events like this are more than just celebratory, but an opportunity for Cadets to build esprit de corps with one another, especially with the newest members of the Battalion. The Raider Battalion will continue striving to achieve the Navy JROTC's mission to create better citizens and honor the Navy's proud history for everything its Officers and Sailors have accomplished and continue to do for the nation.

Below - Top picture - Cadet Farcas, Vice Principle Mr. Hall, and Cadet Master Chief Dunning preparing to cut the cake for the ceremony; Bottom picture - Cadet Master Chief Dunning, Cadet Commander Brockway, and Cadet Lieutenant Commander Daso helping cut the cake in preparation for serving.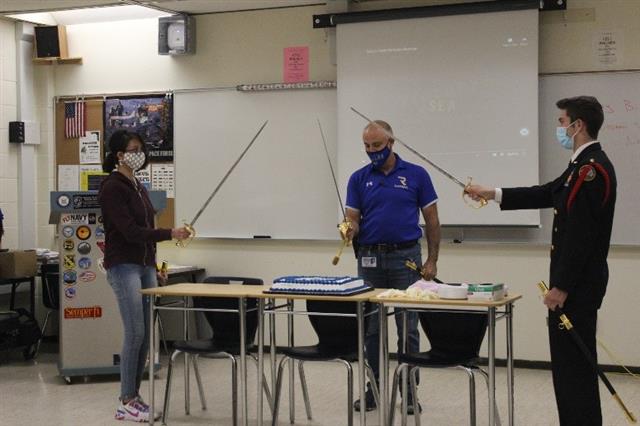 Reed Raider Cadets Support Immunizations
People all over the district have been challenged with getting use to the new normal due to the COVID-19 pandemic. This has become a huge barrier, especially for Cadets, to fully achieve their leadership goals. Just the difference from last year is shocking as Cadets would have many leadership tasks to complete to develop them into better citizens and make their community better. Unfortunately, that is not the case anymore as it has become very difficult for Cadets to fulfill their leadership requirements due to COVID-19 policies in place. Community Service has always been an important pillar of becoming a better citizen. With the blessing of Washoe County's Wellness and Career & Technical Education Departments, Cadets from Edward C. Reed High School showed their Raider Nation Pride by supporting district Drive-thru Immunization events at McQueen High School on October 3rd and 17th, 2020. Over the course of six hours, Cadets were tasked with helping set-up and guiding traffic. Even though community service hours vary for every cadet, each shows great dedication when supporting events throughout the Reno-Sparks community. Military Science instructors diligently coordinate with district and local leaders on community service events for their cadets. The Raider Battalion's dedication and spirit is a great example that a global pandemic will not discourage them from supporting their community. Even in these exceedingly difficult times, we can still find hope and show there are always people willing to go out and support our community.

Below - Reed Navy JROTC Cadets at McQueen High school early in the morning ready to support of Washoe County School District's Drive-thru Immunization event.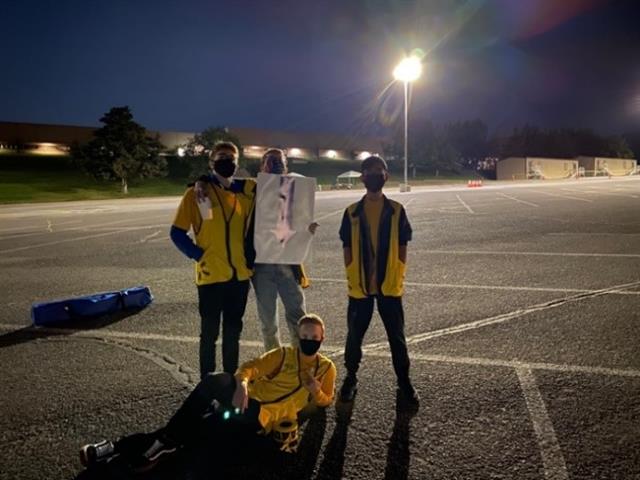 Reed Raider Cadets Recognized for Excellence
The first quarter in the Reed Raider Battalion has been a difficult start. It has been very fast moving and eventful. Along with that, it has been our instructors' greatest honor to bestow upon several cadets' several awards. Below are some of the most noteworthy.

Pictures in order Below:

Distinguished Cadet:

This award is bestowed yearly to one cadet of each year group who has shown the highest aptitude in NJROTC activities and overall scholastic standing. The Second Year Cadet recipient is C/PO3 Nightingale.

Stephen Decatur Award:

The Surface Navy Association presents this award to cadets who lead by the Navy values of Honor, Courage and Commitment. Cadets who receive this award show immense leadership potential. The recipient of this award is C/PO1 McCoshum

Military Order of The World Wars:

This certificate and ribbon are presented by The Military Order Of The World Wars to a cadet who has shown the highest degree of dedication and service to their unit. The Recipient of this award is C/PO1 Leach.

Daedalian Medal

This award is highly prestigious and is awarded by the Order of Daedalians. This Order was formed by military pilots after WW1 in order to perpetuate the spirit of patriotism and love for one's country along with the high ideals of self-sacrifice and placing the nation above oneself. This award is meant to develop those traits in a cadet and to interest them in a military career. The recipient of this award is C/PO2 Flannery.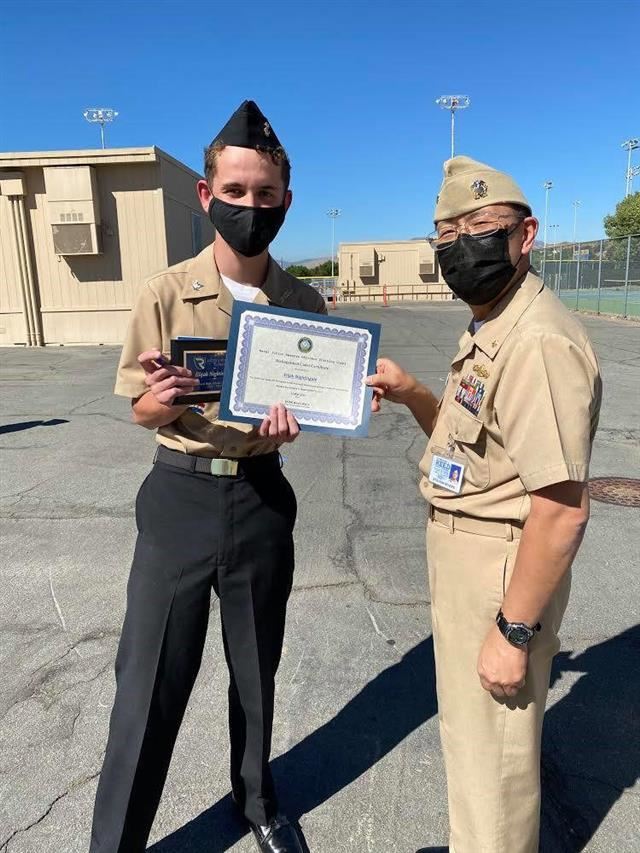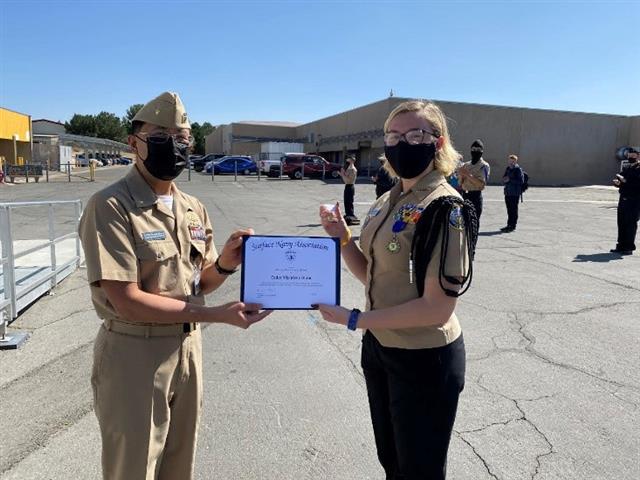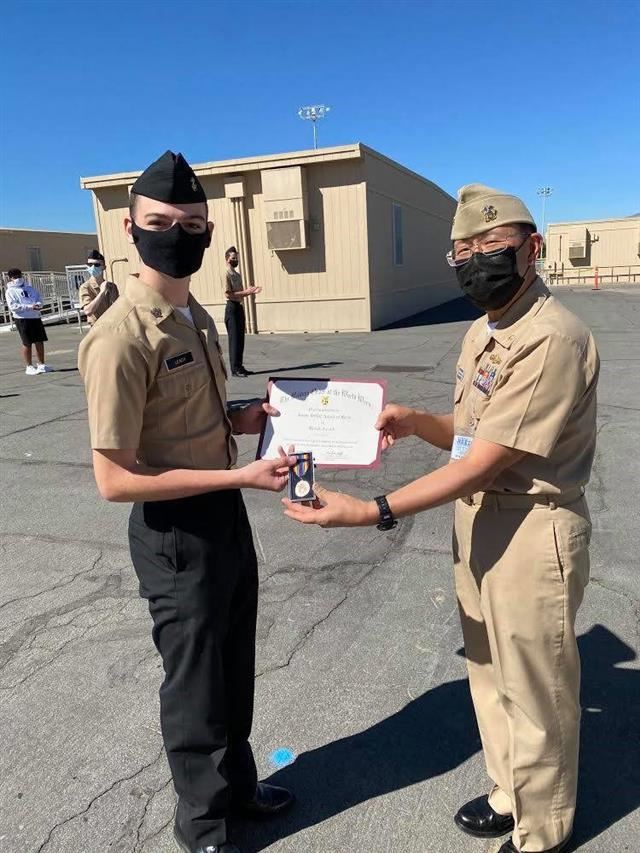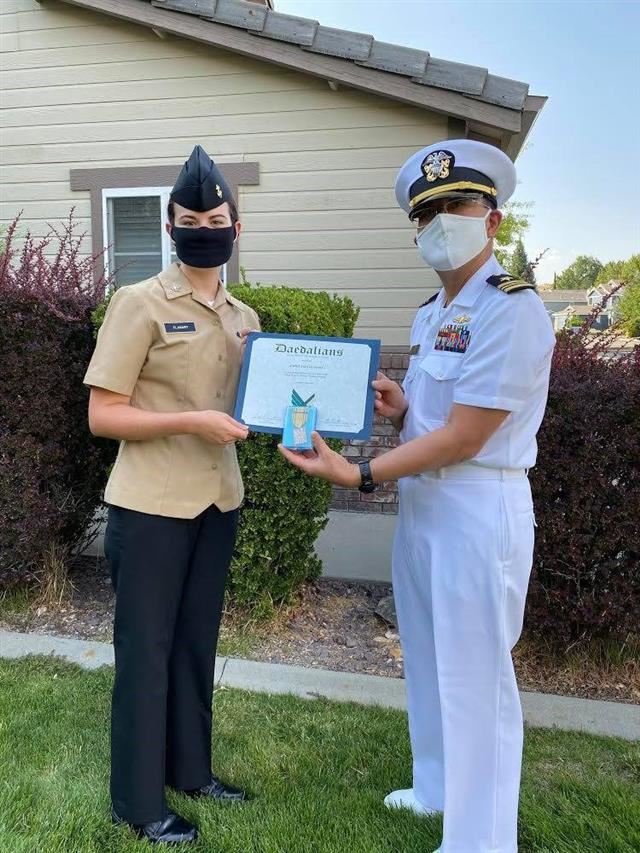 Reed Navy JROTC Cadets are required to complete community service each semester. Although it was not easy to find opportunities for community service due to the pandemic, Cadet Sara Flanary worked with Our Place, an organization dedicated to sheltering families and women in need by receiving donations from the community. Cadet Flanary specifically wanted to donate to Our Place because of her belief that all families should have a good Christmas. She also thought of all the people who lost their jobs due to the pandemic and wanted to make Christmas happen for as many families as possible.
To share in this important undertaking, Cadet Flanary enlisted the help of her mother and fellow cadet, Cindy Martinez. Cadet Martinez was able to make advertising flyers to spread the word and get as many people as possible to contribute. With the help of many supporters, Cadet Flanary was able to give seven families and 102 women a Christmas to remember. Additionally, she hopes that once the pandemic is over the Reed Raider Battalion will support Our Place as an annual tradition to provide for everyone at the facility.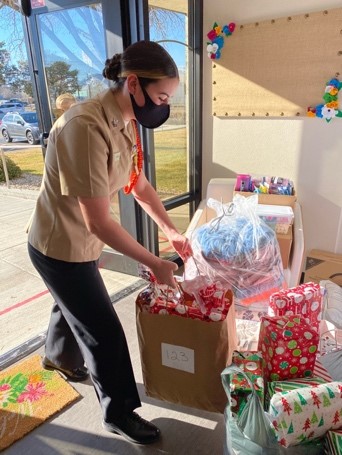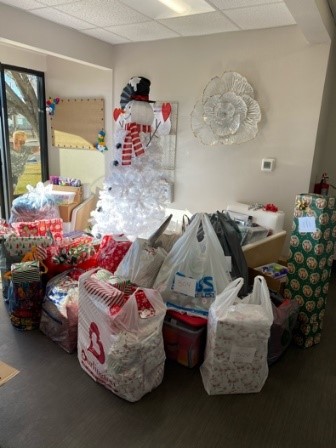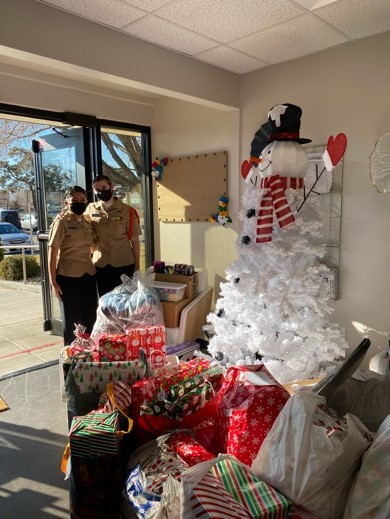 Hawk Regiment Cadets Conquer JLAB
On January 22nd, the Hug Hawks Regiment's Leadership team consisting of the following Cadets: Riley Gillis, Angelina Guerrieri, Zachary Palmer, and William Neahusen competed in the Level 1 competition of the JROTC Leadership & Academic Bowl (JLAB), that tests the Cadets' leadership knowledge which they acquired within the JROTC program. This promising team will most likely advance to Level 2 with the intentions of having what it takes to win a spot at the national competition in Washington D.C. There are many benefits of participating in the Academic Bowl including: Improve SAT/ACT scores, Increase interest in college admissions, demonstrate academic strength and leadership strength of Junior ROTC program, boosting esprit de corps, and having the opportunity to travel in order to represent your school, county, and state at the national level.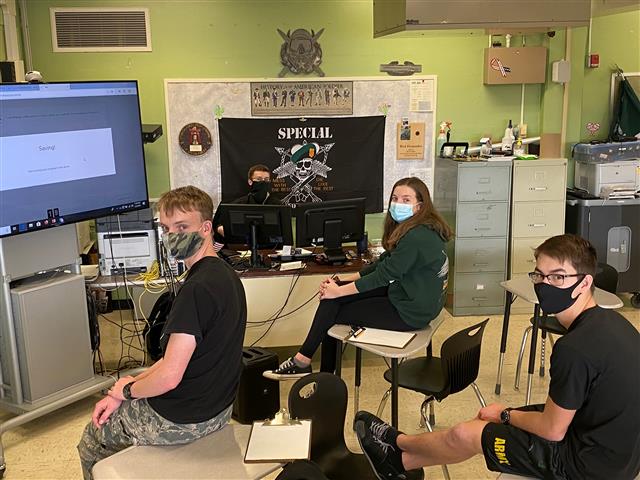 McQueen JROTC Cadet's Essay Advances to National Round
C/SGT Jack Armbrecht is well known as a very talented swimmer. But now he is also known as a very talented writer. His essay on "The Challenges of Online and In-Person Learning in a Pandemic Environment" advanced to become one of the final 16 essays in the annual JROTC National Essay Contest involving 1,700 JROTC High Schools. (See Photos Below) C/SGT Jack Armbrecht is recognized by Principal Amy Marable (2nd from left) and WCSD Director, JROTC LTC(R) Scott Caldwell (Left). Cadet Armbrecht is pictured with his Mother (Right).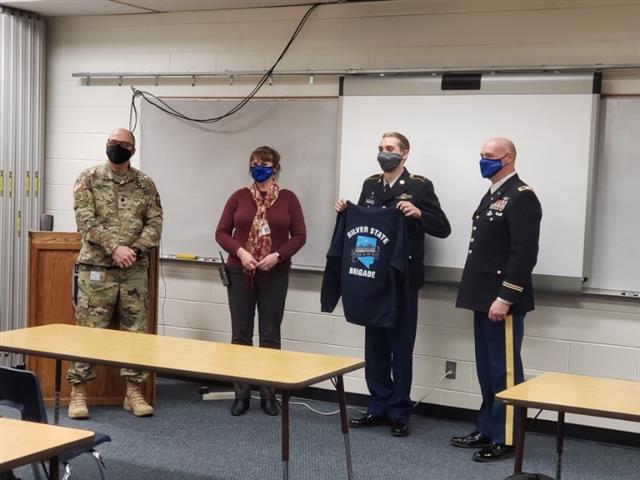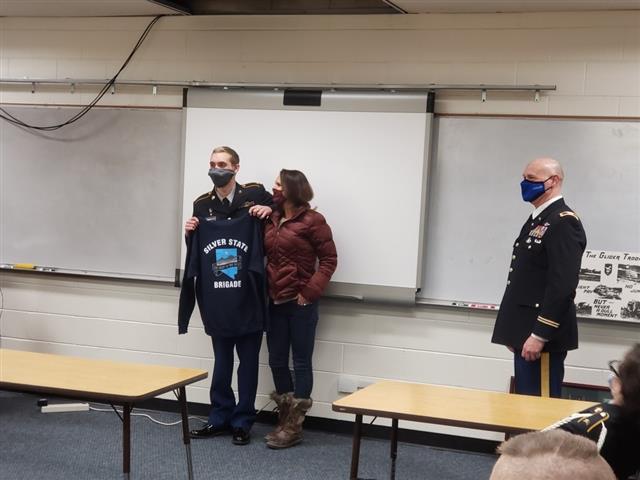 McQueen Performs Joint Color Guard with Reno Police
This morning the McQueen JROTC Color Guard performed along with two members of the Reno Police Department Honor Guard. The event was a fundraiser telethon for the Nevada Veterans Memorial (Sparks Marina). Our C.G. members were CDT's M. Najera, T. Luck, K. Mead, and L. Mead. The event will be shown on 15 May on KOLO.