Throughout history, armies have practiced drill. In times of war, leaders used drill to move troops and equipment quickly from one location to another in an orderly manner. Drills also show how many individuals can move as one unit in a flawlessly timed effort. These unison movements are still important on the battlefield, where mistakes can cost lives. Discipline is a natural outcome of practicing drill. The discipline acquired through drill tansfers to JROTC and everyday life activities as well.

Drill is the foundation of JROTC—it reflects the structure of the program. It visibly and physically represents the chain of command. Drill teaches Cadets to work together from small teams of three to five Cadets, to battalions numbering in the hundreds.

Drill helps:
• Everyone know where they fit in the organization
• Facilitate task organization
• Facilitate command and control
• Facilitate mission or task accomplishment

Many skills acquired through drill are useful in civilian life as well. Most importantly, drill contributes to the development of a cohesive team. Teams are an essential part of almost any job, career, or organization to which you will belong throughout your life.

Teamwork is the effort of a group to complete a task or goal. Successful teamwork requires each team member to cooperate with other members of the group to complete the effort as directed. As you read in the history of drill, teamwork and cooperation was a natural result of successful drill. Learning about teamwork is an important part of JROTC. It is a team spirit where all members work together to achieve the same goals. Teamwork also gives you the opportunity to interact with other Cadets. In most organizations that you will encounter, the members of a team or group will probably come from different backgrounds with different interests. However, by working together as a cohesive unit, everyone tries harder to get along with each other in a productive and professional manner. By working cooperatively with your teammates, you can improve your individual eadership, followership, and communication skills and abilities.

In addition to learning and mastering individual and group drill during your JROTC classroom instruction, Cadets have the opportunity to demonstrate their abilities through competitions with the other JROTC program drill teams. The Silver State Brigade Drill competition season is normally held during the Fall season and features four events with a culminating Northern Nevada Drill Championship. Drill competition events include, squad and platoon drill (armed and unarmed), color guard, individual and group exhibition.
WCSD JROTC programs have a robust history of competitive 10 meter, 3-position air rifle competition events and success with both team and individual national rankings. The Ten meter, 3-position air rifle competition is both an NCAA and Olympic sport and is conducted in exactly the same manner in the JROTC program. Cadets will study marksmanship safety in the classroom and will have the opportunity to compete with other schools as a member of their air rifle team. The Silver State Brigade air rifle season normally runs from late fall through early winter and features league competitions, postal matches, shoulder to shoulder competitions as well as regional and state military service competitions. We host the Northern Nevada Air Rifle Championship match and a junior olympic match each year. Additionaly information on the JROTC air rifle program is found below.

Cadets who are interested in target rifle shooting as a sport and who become members of their JROTC or school rifle team have many special competition opportunities. Competitions are a great way to measure your skills and progress as a shooter. They are always exciting, challenging experiences where you learn to control yourself and do your very best under pressure. They also offer opportunities to travel and meet new friends. The
following are competition opportunities available to you:

JROTC or School Rifle Team
If your school has a JROTC rifle team or the school rifle team, your instructor will provide information about that program. Team members have a chance to practice regularly during the rifle season and to participate in competitions scheduled for the team.

Postal Competitions
In postal competitions, participating teams schedule matches where each team fires their score at their home range. Competing teams exchange scores by email, fax, or phone to determine who won. The Army, Navy, and Marine Corps JROTC programs all have national postal competitions that all JROTC units are encouraged to compete in. The National Guard Bureau and American Legion sponsor two of the most popular national postals. To learn more about national postal competitions available to JROTC rifle teams, check the CMP website.

League Competition
In many areas of the country, school or JROTC teams organize leagues where they compete against each other in shoulder-to-shoulder competitions. Won-lost records usually determine league standings. There are many JROTC or high school leagues in the United States. The largest and most active high school league is in Georgia where the Georgia High School Association recognizes rifle as a varsity sport.

Major School Age Competitions

There are a growing number of major competitions for school and JROTC rifle teams. A program goal of many JROTC or school teams is to do well in one of these major tournaments. They include:


• State Junior Olympic Championships. Almost every state now has a state qualifying competition for the National Junior Olympic Championship in the winter or early spring. Many states organize their qualifiers in three or four different sections so that travel distances are not great and as many teams as possible can participate. Check the USA Shooting website for a listing of state qualifying competitions.


• CMP Cup Matches. These are large regional high school competitions where participants come from several states. CMP Cup Matches have sporter and precision class individual and team events and offer an opportunity to earn credit points for Junior Distinguished Badge awards.


National Recognition Opportunities

When school age rifle teams participate in major competitions, they become eligible to earn many special awards. Some of the most important awards are the Junior EIC badges and Distinguished Badges that are offered by the National Three-Position Air Rifle Council. Individual shooters who participate in Junior Olympic State and National Three-Position Air Rifle Championships can earn credit points for EIC badges and the prestigious Junior Distinguished Badge that are shown in Figure 6.10.6. Distinguished Badges are usually awarded in special ceremonies. There also are National Records for threeposition air rifle shooting, including separate record categories for Army, Navy, and Marine Corps JROTC competitors. The most comprehensive summary of all of the competition opportunities available in target shooting appears in the Youth Shooting Opportunities Guide that is published by the CMP.
JROTC Leadership & Academic Bowl (JLAB) - All Schools
The annual JROTC Academic and Leadership Bowl (JLAB) series of competitions provides Cadets with the opportunity to compete nationwide using a digital platform, team competition which strengthens both their leadership and academic knowledge as well as preparing them to be successful on the SAT and ACT examinations. Cadets compete in teams of four in either an academic (STEM) based set of knowledge questions or JROTC leadership-based competitions. These competitions are conducted across all JROTC programs nationwide by military service. The series features two elimination competitions during the year and a final championship held in Washington DC for the top qualifying programs. The JLAB competition is hosted and funded by the College Options Foundation. Additional information on this organization is found below.

The College Options Foundation is a not-for-profit 501 (c) (3) organization that is dedicated to enriching the academic development of high school students and assisting them in their preparation for higher education. Our emphasis lies with serving all families, including military families and students who participate in JROTC. To accomplish our mission we provide resources for college admissions and funding, utilize student planning guides, college exam study guides, admissions tutorials and personalized counseling, and conduct spirited academic competitions for students nationwide.

The Foundation also serves as a resource for students who are interested in obtaining more information about higher education. Our award-winning software takes students and their parents through the process of preparing for college entrance exams, submitting applications, obtaining financial aid and getting ready for that first year of college.

Finally, the Foundation offers unique fundraising opportunities for groups such as JROTC units, service clubs, and special interest clubs – just about any group of high school students — to raise money for their activities. These programs do not require "start up" costs or time-consuming oversight by parents and provide funds for all of the organization's activities.

We believe that it is vital that all students have access to the resources necessary to prepare them for the rigors of advanced education. The Foundation is currently working with over 2,000 high school programs, which include military installations and Department of Defense schools worldwide, to provide innovative educational assistance.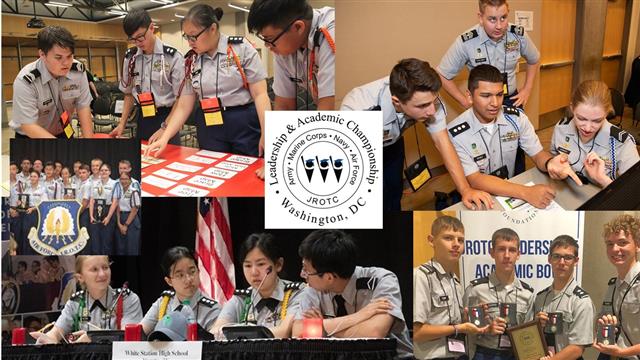 Raider Challenge - Incline Galena Wooster Reno McQueen Hug Sparks Spanish Springs Damonte Ranch North Valleys
The Silver State Brigade Raider Challenge is a competitive program in 5 athletic and curriculum-skilled events. The events are as follows: Raider Fitness Challenge, One-Rope Bridge, Cross Country Rescue, 5KM Team Run and Tire Flip. This is an extremely physically demanding competition team that teaches: Ethical Values and Good Citizenship, Leadership Potential, Effective Communication and Logical Thinking, Improved Physical Fitness, Incentive to live drug-free, Positive Self-Motivation and Management, the skills to work as a team member and motivation to graduate from high school and pursue a successful career.

Cadets compete in teams of 10 members and three categories: Male team, Female Team and Mixed Team. The competition season is normally held during the Spring time and consists of four events including the Northern Nevada Raider Championship.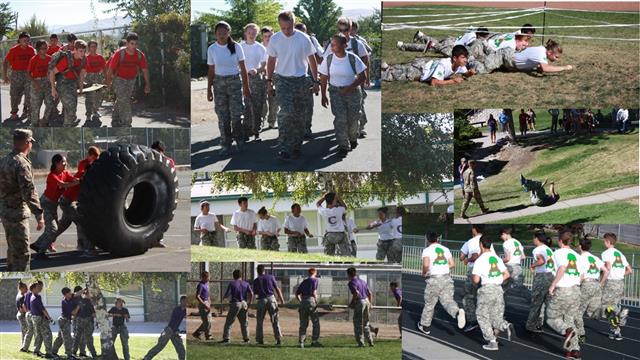 Cyber Patriot - McQueen Damonte Ranch North Valleys Reno
​CyberPatriot is the National Youth Cyber Education Program created by the Air Force Association to inspire K-12 students toward careers in cybersecurity or other science, technology, engineering, and mathematics (STEM) disciplines critical to our nation's future. ​At the core of the program is the National Youth Cyber Defense Competition, the nation's largest cyber defense competition that puts high school and middle school students in charge of securing virtual networks. Other programs include AFA CyberCamps, an elementary school cyber education initiative, a children's literature series, and CyberGenerations –a cyber safety initiative geared toward keeping senior citizens safe online.

CyberPatriot's National Youth Cyber Defense Competition is the world's largest cybersecurity competition and is open to all schools and approved youth organizations. Before getting started with the registration process, review this competition overview to get a better understanding of the competition!

Team Members

Coach: An adult (e.g. teacher, JROTC instructor, administrator, parent, etc.) approved by a participating organization to act as the administrative lead of a CyberPatriot team. The coach is the main point of contact for competition-related correspondence. A team can only have one coach.

Competitors: Each CyberPatriot team must consist of between two and six competitors enrolled in the participating school or organization. While up to six students are permitted on each team's roster, a maximum of five students are permitted to compete at any one time during a competition round. A one-time substitution can be made each round.

Technical Mentor(s): IT​​-experienced individuals who volunteer to assist in the cybersecurity training of CyberPatriot teams. Mentors must register on the CyberPatriot website and are required to successfully complete a background check before being eligible to officially join a team. (Minimum age: 18)

Team Assistant(s): Adult volunteers who provide non-technical support and encouragement to the team (assisting with scheduling, set-up, snacks, etc.). Team assistants must register on the CyberPatriot website and pass a background check. (Minimum age: 18)

Divisions:
Based on the competitive composition, a team is assigned to one of three divisions:

Open Division: High school students from schools, scouting units, Boys and Girls Clubs, home school programs, STEM programs, etc.

All Service Division: High school students in JROTC Programs / Civil Air Patrol units / Naval Sea Cadet Corps units

Middle School Division: Middle school students from schools, scouting units, boys and girls clubs, STEM programs, etc.



CyberPatriot's National Youth Cyber Defense Competition challenges teams of high school and middle school students to find and fix cybersecurity vulnerabilities in virtual operating systems. Using a proprietary competition system, teams are scored on how secure they make the system. Top teams advance through the online round of competition, and the best of the best advance to the in-person National Finals Competition.

Each team has two challenges during their six-hour competition period:

Network Security Challenge: involves finding and fixing security vulnerabilities in Windows and Linux operating systems.

Cisco Networking Challenge: consists of an online quiz and a virtual networking exercise based on specific training materials.

CyberPatriot is designed for any student, regardless of prior cybersecurity knowledge. Training materials are available through the volunteer dashboard and through Cisco Networking Academy. Instructions for competition round preparation are emailed directly to coaches prior to each round.

All rounds of competition, except for the National Finals Competition, take place online. Teams may meet at and compete from any location – classroom, computer lab, public library, home, etc.

Teams qualifying for the National Finals Competition travel all-expenses paid to Bethesda, MD in the spring.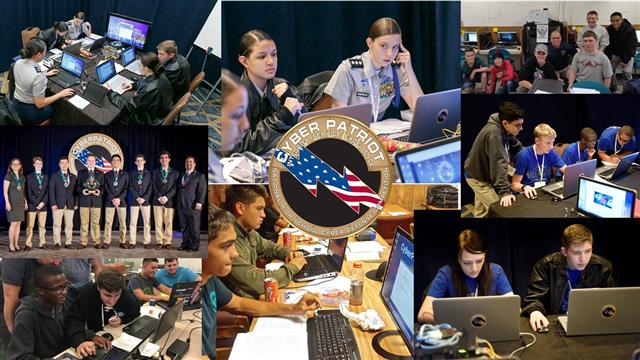 Robotics - Reno Galena Damonte Ranch Hug McQueen
Overview

JROTC and the REC Foundation are excited to team up and join the VEX Robotics Annual Competition Season. Students, with guidance from their teachers and mentors, build innovative robots, program autonomous code, and compete among other schools to advance to the JROTC VEX Robotics Competition National Championship at VEX Worlds.

Robotics is not only the future, it is also the present. By familiarizing students with programming, sensors, and automation, they hone critical computational thinking skills needed to succeed in both the 21st century's workforce and in everyday life.

The study of educational robotics affords a wide variety of learning opportunities because it has STEM (Science, Technology, Engineering, and Math) as its prerequisites. Robotics is always interdisciplinary in ways that are tangible and applicable to students. Students gain an understanding and knowledge through the connecting of concepts from each of the STEM domains. Activities involving robotics necessitate that students collaborate, think computationally, troubleshoot, and innovate - all fundamental skills for 21st-century learners and, eventually, 21st-century professionals.

Educational robotics:

Has the potential to be used as the context for teaching fundamental scientific methods and practices, such as the scientific method, observation, experimentation, data collection and analysis. It also allows for investigations of applied physics and mechanical concepts, systems thinking, and of course artificial intelligence.

Highlights the many ways in which technology impacts daily life in the 21st century. Students build, code, and manipulate their own technological designs to apply innovative ideas that improve existing processes. Robots are tangible examples of how technology is used to meet the needs of its users and the needs of society.

Allows students to practice the engineering design process. They learn to work within constraints, identify multiple solutions to problems, and find the best possible solution through iteration. Students hone valuable skills with problem-solving, troubleshooting, research and development, invention and innovation.

Is an excellent way to make math more meaningful for students. Robots provide the "hook" that enables students to connect with, and immerse themselves in, the world of mathematics by applying their skills to a real-world setting. Students are then able to learn to appreciate the value of mathematics in their daily lives.

Competitions

All students are natural scientists and engineers. They love to question, tinker, experiment and play. VEX competitions foster these skills and capitalize on the motivational effects of competitions and robotics to help all students create an identity as a STEM learner. VEX competitions are also a great way to expose students to valuable soft skills like communication, collaboration and time-management in a fun and authentic way. The VEX Robotics competition prepares students to become future innovators with 95% of participants reporting an increased interest in STEM subject areas and pursuing STEM-related careers. Tournaments are held year-round at the regional, state, and national levels and culminate at the VEX Robotics World Championship each April!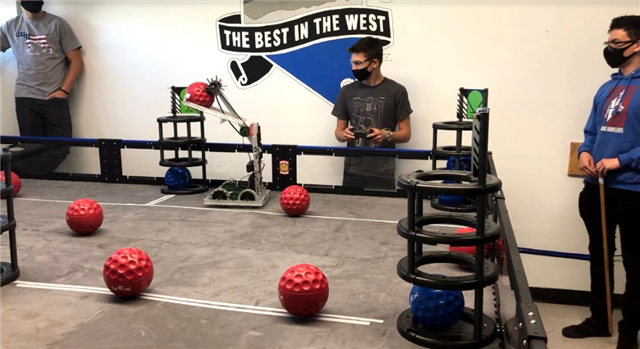 Aerial Drones - Coming Soon