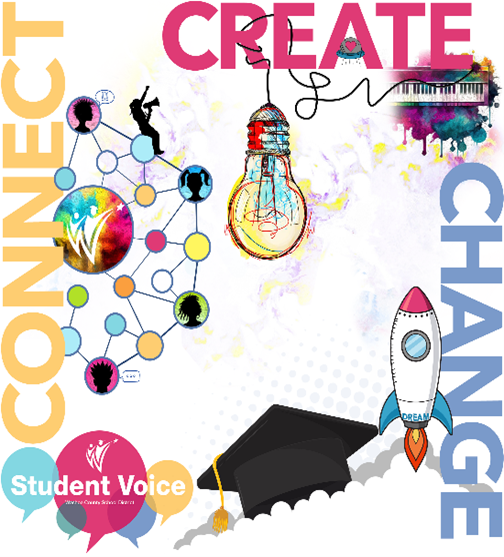 Have you ever wondered about the teenage brain, what goes through the mind of a bully, or how to unleash your inner superhero? These topics and others were explored during Washoe County School District's annual Strength in Voices conference held Friday, May 19, 2023, at Truckee Meadows Community College. The student-led event brought together 375 students and educators from across the district's elementary, middle, and high schools to interact with tools for creating change while reflecting on issues relevant to young people. Disclosed by the mantra-Connect, Create, Change-the goal of the event was to empower attendees to shape the future of their schools and communities.

The conference showcased students' use of design thinking to tackle persistent, or "wicked", school challenges. Co-emceed by Ivy Batmale, Incline High School senior and Student Advisory Board President and Joe Ernst, Chief Accountability Officer, the morning session took attendees through a journey of inspiration: Led by McQueen High School students Annie Batavia and Arabelle Deason, Dr. Laura Davidson, Director of Research and Evaluation, and Brad Rose, Student Voice Facilitator, attendees learned about their personality traits, or True Colors, and then redesigned their school lunchrooms with teammates whose personality types worked in harmony and also differed from their own. A gallery walk of student voice projects showcased the student projects aimed at positively changing schools. Dr. Susan Enfield, Superintendent, spoke about the importance of students in ensuring an equitable educational system. Drake Elementary School Cheer Squad brought energy into the forum through their optimistic cheer performance.

The morning session was capped off with an inspirational speaker, Mia Albright, Reno High School graduate and University of Southern California freshman, who spoke about the power of student voice within her journey to becoming an advocate for social justice. She reminded the audience of the promise of student voice, "Student voice brings a fresh and unique perspective to the table. You see the world through your eyes, with experiences, ideas, and insights that are distinct from those of adults. Your perspective is valuable and can shed light on issues that others may not see." Shen then called upon students to "Embrace your viewpoint and know that it has the power to challenge the status quo and spark change."

In the afternoon breakout sessions, middle and high school attendees experienced firsthand the phases of the design as inspired by the approach taken by Stanford University's d.school. Elementary school students attended a separate session geared toward building skills foundational to giving voice. The day ended with commitments to action in furthering student voice work for change at school.

The Strength in Voices conference is an annual event sponsored by the Department of Student Voice, Office of Accountability, and Student Advisory Board. Event planning and facilitation is completed in partnership with staff from across all WCSD departments. For more information about the conference or about WCSD's student voice initiative, please contact Brad Rose, Student Voice Facilitator at brose@washoeschools.net or visit the Student Voice website.