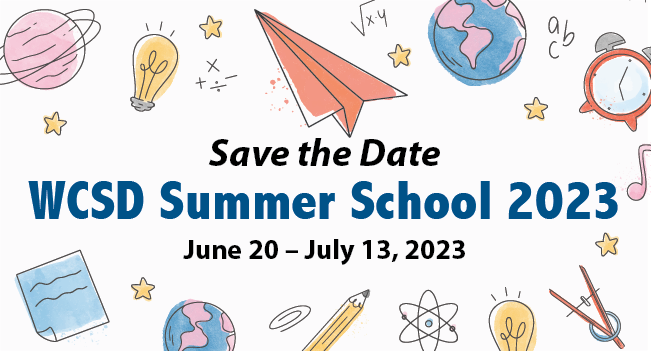 Students currently in grades kindergarten through 7th grade can participate in summer school classes at designated schools across the district. In-person learning will provide support with math, reading and language arts, in addition to fun and enriching activities for students who are not meeting their grade-level standards. The summer programs will be socially and academically specific for grade levels.

The district offers four weeks of summer learning from June 20 through July 13, 2023. Tuesday, Wednesday, and Thursday, three times per week, for 5.5 hours, selected schools will host summer school programs. Therefore, not every school will host its summer program at its site. The summer school schedule for elementary and middle schools will be posted soon.

The district will offer transportation subject to current walk-zones. In addition, breakfast and lunch will be provided for students.
Los estudiantes que actualmente están en los grados de kínder o preescolar al grado 7 podrán participar en clases en escuelas designadas a través del distrito. El aprendizaje presencial proporcionará apoyo con matemáticas, lecturas y habilidades del idioma además de actividades divertidas y enriquecedoras para los estudiantes que no estén alcanzando sus metas de grado escolar. Los programas de verano serán específicos en contenido académico y social de acuerdo a los grados escolares.

El distrito ofrecerá cuatro semanas de aprendizaje de verano del 20 de junio al 13 de julio, 2023. Los martes, miércoles y jueves, tres veces por semana por 5.5 horas, ciertas escuelas ofrecerán los programas de verano en su escuela. Por lo cual, no todas las escuelas tendrán las clases de verano en su escuela. El horario para estudiantes de primaria y secundaria se publicara pronto.

El distrito ofrecerá transporte para estudiantes según las zonas escolares. Además, se proporcionará desayuno y almuerzo para los estudiantes.
2023 Summer School Schedule