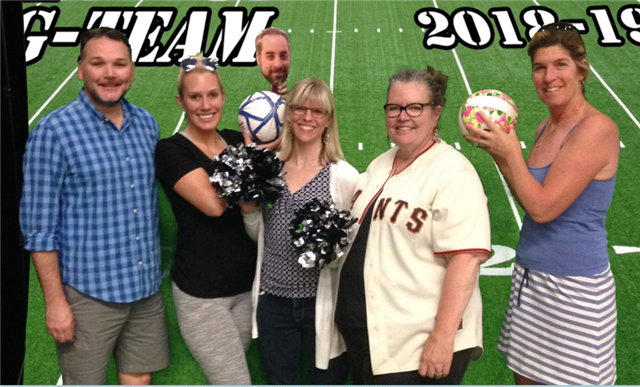 Phone:
Email:
Degrees and Certifications:
About the Teachers

David Slater (dslater@washoeschools.net): I am returning for my eight year teaching ELA at Pine after more than fifteen years teaching middle and high school in Portland, Oregon. These past five years have been among the most rewarding of my career, and I'm eager to get started again! For details on my 7th & 8th grade ELA classes, see www.tinyurl.com/pgtELA.

Laura Dale (ldale@washoeschools.net): This will be my ninth year in the GT program. I will be teaching 7th grade Physical Science and 8th grade Honors Biology. My classes are student centered, hands-on and lab-based. My teaching philosophy is "Students learn science by doing science."

Kristen Harris (keharris@washoeschools.net): I am thrilled to begin my eighth year in the Pine GT program! This year I'll be teaching 8th grade Social Studies, which will cover U.S. History from about 1860-1950. I will also teach an 8th grade Current Events elective. I look forward to meeting my students, and sharing my love of history and current events with them. 

Kathleen Marshall (kmarshall@washoeschools.net) I am delighted to be returning for my sixth year with the Pine GT program and my sixteenth year in Washoe County. This year, I'm excited to be teaching 6th grade Science, World History, English, Math and Art. In my classes, we take a BIG cross-curricular look at the world and the history of human ideas. What I Love about teaching all 6th grade core classes is the opportunity to make connections to the big picture of life. It's a joy and a privilege to be a part of the GT community at Pine. For more details about me and my classes, and a specific supplies list for GT 6th grade, see https://www.washoeschools.net/Page/7001.  

Mark Romo (mromo@washoeschools.net):  Aloha - I am thrilled to be teaching GT 7th grade US History. I aspire to make students into Retronauts — sailors/explorers of the past. Learning about history makes better students, more informed citizens, and better human beings. I'm also teaching two sections of Makerspace. Makerspaces, sometimes also referred to as hackerspaces, hackspaces, and fablabs are creative, DIY spaces where people can gather to create, invent, and learn.  

Rachel Burke (rburke@washoeschools.net): I am very excited to be returning for my third year with the GT team at Pine. My background is in Civil Engineering, and I look forward to bringing my love of problem-solving, experiments, and a hands-on approach to the 8th grade Integrated II Math and Advanced Algebra 2 courses this year. For more information, please visit my website, which is constantly under construction, http://washoeschools.net/rburke.