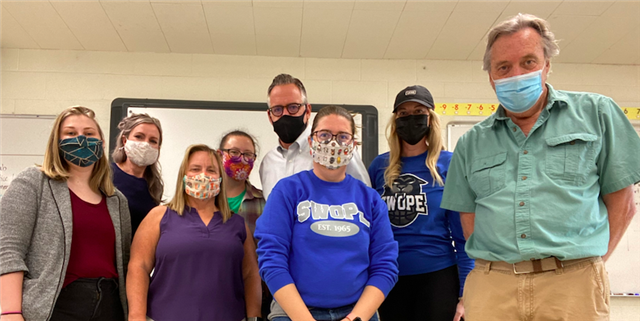 Mr. Bodensteiner-7th and 8th Grade Social Studies

My name is Todd Bodensteiner and this is my 12th year at Swope Middle School. I have taught the social sciences for fifiteen years, three in Las Vegas before moving north to Reno. I studied at the University of Nevada and Sierra Nevada College and carry a Master's Degree in education and history. My true passion is U.S. and World History with an emphasis on the relationship between sociology and history. I am also a Thomas Jefferson scholar and aspire to publish a book on Jefferson. I currently coach basketball at Swope Middle School and have previously coached men's varsity basketball at Wooster and Damonte Ranch High Schools as an assistant. I played varsity basketball at Reno High School and played one season at the Junior College level. I am married to Amy Carling Bodensteiner who is a school psychologist here in Washoe County. We have two daughters who we love and cherish, and plan on raising our family in Reno and will be in the district for at least twenty years.

Mrs. Hoy-8th Grade ELA and GT Challenges

I started my professional life with a B.S. in Business Administration from the University of Nevada, Reno. After several years spent in the business world, I discovered my true passion and mission in life was to be the teacher I wanted my children to have and earned my teaching credentials through the Sierra Nevada College Teacher Certification Program in 2001. I earned my GT endorsement in 2009 and joined the Magnet program during its inaugural year (2011) after having taught English at Vaughn MS for ten years. As a third-generation educator, I'm continually working toward my goal of being 'the toughest middle school teacher ever' by joining the Northern Nevada Writing Project, winning a few teaching awards, serving on various educational advisory councils and running a marathon all in the spirit of engaging students in the joys of the written and spoken word. In my free time, I enjoy reading, writing, taking photos of my animals, traveling to exotic places, playing golf and working out.

Mrs. Matilainen-6th Grade GT Challenges and Social Studies; Art Elective

Hello! My name is Jennifer Matilainen. I will be teaching 6th Grade GT Challenges and Social Studies this year. This will be my second year at Swope and third year with WCSD. Before I taught in Reno, I taught in San Jose for 7 years. I graduated from San Jose State University with a B.A. in Communicative Disorders and Science and received my teaching credentials from Cal State Monterey Bay. During the summer months, I earned my GT endorsement. Three years ago, my family and I fell in love with Reno and decided this was the place we wanted to raise our four year old daughter. We love the kindness of people here and the luxury of knowing we have the Sierra Nevadas in our backyard. Whenever we have the chance we are outside! We enjoy going on hikes, bikes rides, swimming and camping. We are planning a backpacking trip around Lake Tahoe next summer. I am looking forward to my first year in the GT program!

Mrs. Randall-6th Grade Math and Algebra II; Spanish Elective

My name is Cindi Randall. I am teaching Honors Algebra II, Accelerated Math 6 and co-teaching the Spanish elective class. This is my second year at Swope. Prior to teaching here, I taught 4th and 5th grade in Carson City. I was also a GT Itinerant teacher in WCSD for several years. I developed a love of teaching mathematics while instructing adult students at Western Nevada College. I knew I wanted to help develop a deep understanding and love of math in others, so I went back to earn my Master's Degree in mathematics education.

My husband and I have two adult children who were both in the GT program in Carson City. We are fortunate they decided to go to UNR so we can enjoy all that Northern Nevada has to offer together.

Ms. Ross-Algebra I and II, and Integrated II

I have taught High School Math in WCSD for over ten years, moving between North Valleys HS and Wooster HS before moving to the Swope GT Magnet four years ago. In my spare time, I enjoy riding my bike and hanging out with my pre-school aged sons.

Mr. Shader-6th Grade Distance Learning Teacher for GATE Magnet

This is my 15th year as a teacher in the district and second year as a GT teacher at Swope. I've had lots of jobs over the years like bartender, construction worker, pizza cook and several different 'careers' like musician, meteorologist, golf professional, and stockbroker but in a way, they've all led me to where I am today. I moved to the wonderfully unique environment known as Reno in 2000 to become a golf/ski instructor but after a home purchase and dip in the stock market, I decided to get a 'real' job, or at least one that was more stable. I attended the University of Phoenix where I was able to complete my Master's degree and obtain a teaching credential in 2003. I feel like I've really found my niche in the GT program and look forward to many years of challenging and enlightening young minds to develop life-long learners who are curious, engaged, and productive citizens of the world!

Ms. Wilbrecht-7th and 8th Grade Science; Swope GT Team Lead

Hello! My name is Kristine Wilbrecht and I will be your students' science teacher this year. This is my tenth year teaching, and this will be my fourth year at Swope. I have a Bachelor of Science in Environmental Science and Ecology from Sierra Nevada College, where I also obtained my Masters in Teaching. I will begin the second year of my doctorate in STEM education this fall at UNR. When not teaching, I like going on walks and hikes with my son and daughter, skiing, paddle boarding and riding my bike. I also like knitting, quilting, along with other fiber crafts. This is gearing up to be a strange year, but it is going to teach us to be innovative and flexible.

Miss Yancey-6th GT Challenges, 7th Grade ELA, and Creative Writing

Hi! My name is Rachel Yancey, and this will be my second year as a GT Teacher at Swope Middle School. I have experience teaching Creative Writing, 6th grade GT Challenges and 7th Grade ELA at Swope MS and was previously a GT itinerant at various schools. I received my degree in Secondary Education with an emphasis in English at the University of Nevada, Reno and have earned my GT endorsement. I have been working in the Washoe County School District for the past three years. I have chosen to stay within the GT community because I enjoy working with students who think abstractly and have a wide range of interests. In my free time, I enjoy writing, reading, travelling, and spending time with my family.