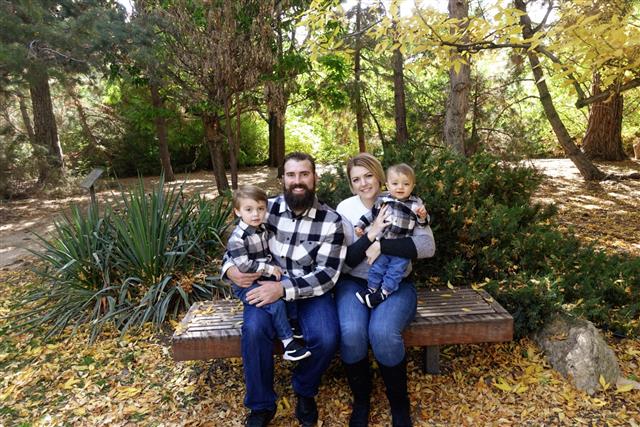 Hello, and welcome to my English/Language Arts class! My name is Ashley Annand, and I am in my 7th year of teaching middle school.

I grew up in the Spanish Springs and have lived here for over 20 years. Outside of Spanish Springs, I lived in Boise, Idaho for five years while I attended college. I played softball for Boise State University, where I earned my Bachelor's degree in Teaching English and a second in Writing.

After I graduated, I moved back to Reno, where I began teaching at Shaw Middle School. During my time there, I earned my Master's Degree in Administration and Supervision.

Outside of work, I enjoy spending time with my husband, Chase, and chasing our two wild boys around, Colton and Collier.
Class Procedures Highlight:
Late Assignments

Digital-

students must complete the 'late work Microsoft form.' This is a channel in students' ELA Microsoft Team.

Paper-

students can submit these during class, at lunch, before school, or after school to the bin labeled "Late or Absent."

Late assignments start at 70%.

Late assignments will be inputted on the Friday AFTER submitted.

Retakes

Retake requirements are reviewed in class, posted on the board in class, and

posted in the comments section of the assessment in Infinite Campus

.

Written Assessments

will be revised and edited with a one on one study session. These will have a deadline.

Tests

will require an additional assignment and have a new test date.

Playlists

Students will be assigned a learning "playlist" each week.

This is a list of activities and assignments students are required to complete for the week.

Because of the hybrid school model, the majority of these activities will take place at home.

Highlighted activities will be worked on during a student's in-class time.
Why Independent Reading?

Studies have consistently shown a strong correlation between academic success and students who ready independently. Independent readers show a greater increase in vocabulary, reading comprehension, verbal fluency, and general information. Reading exposes students to the amount of new vocabulary they need to be successful in school. This is something that cannot be done in class or through conversations.

Why Accelerated Reader?

Renaissance Learning, or Accelerated Reader, is the tool used to assess students' independent reading. This allows us to give students choices in the novels they read while holding them accountable for completing the reading. This is NOT how reading comprehension is taught. Throughout the quarter, students are provided with reading strategies and tools to help their comprehension of the IR novels.

Grading

The IR grade falls in the assessment category, which is weighted at 85% of students overall grade

Students grades are calculated by this formula:

Average percent correct + percentage toward goal + percentage toward goal = total

Total/3= Overall Grade

Due Date

IR will ALWAYS be due two weeks before the end of the quarter

Annotations

Students are required to annotate while they read

This is a paper assignment and can be used as a bookmark

These are collected every two-three weeks and count as a quiz grade (20 points)

Students are allowed to use these on their tests!

Helpful Links: