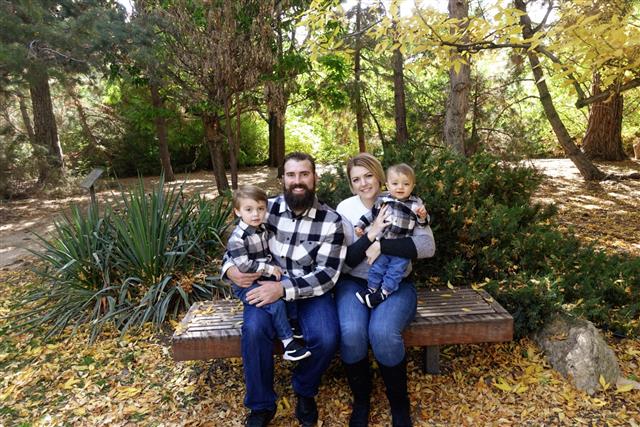 Welcome to my English/Language Arts class! My name is Ashley Annand, and I am in my 9th year of teaching middle school.

I grew up in the Spanish Springs and have lived here for over 20 years. Outside of Spanish Springs, I lived in Boise, Idaho for five years while I attended college. I played softball for Boise State University, where I earned my Bachelor's degree in Teaching English and a second in Writing.

After I graduated, I moved back to Reno, where I began teaching at Shaw Middle School. During my time there, I earned my Master's Degree in Administration and Supervision.

Outside of work, I enjoy spending time with my husband, Chase, and chasing our two wild boys around, Colton and Collier.
Class Procedures Highlight:
Late Assignments

Digital-

students must complete the 'late work Microsoft form.' This is a channel in students' ELA Microsoft Team.

Paper-

students can submit these during class, at lunch, before school, or after school to the bin labeled "Late or Absent."

Late assignments start at 70%.

Late assignments will be inputted on the Friday AFTER submitted.

Retakes

Retake requirements are reviewed in class, posted on the board in class, and

posted in the comments section of the assessment in Infinite Campus

.

Written Assessments

will be revised and edited with a one on one study session. These will have a deadline.

Tests

will require an additional assignment and have a new test date.
Why Independent Reading?

Studies have consistently shown a strong correlation between academic success and students who ready independently. Independent readers show a greater increase in vocabulary, reading comprehension, verbal fluency, and general information. Reading exposes students to the amount of new vocabulary they need to be successful in school. This is something that cannot be done in class or through conversations.

Book Clubs

Students are required to read all year long. Each quarter has a different reading theme with varying group topics. Students will choose one of the provided topics. They are also given choice with the books they can read to satisfy their group's topic. Students are required to participate in a two group discussion based on their prep guide. This is an Assessment grade for 25 points based on speaking and listening standards. To participate in the discussion, students are required to have the discussion prep guide completed. If it is not, or students are absent, they will complete an alternative assessment.

Two weeks prior to the end of each quarter, students are required to take an accelerated reader test on their book to assess their reading comprehension. This is an Assessment worth 50 points. Students are required to test on a book they have used during one of their group discussions. Students are allowed to retake this by reading a new book and taking a new test.