Incoming Grade 6 Elective Sign Up

Attention all incoming sixth-graders! Use THIS LINK to sign up for your electives for next year!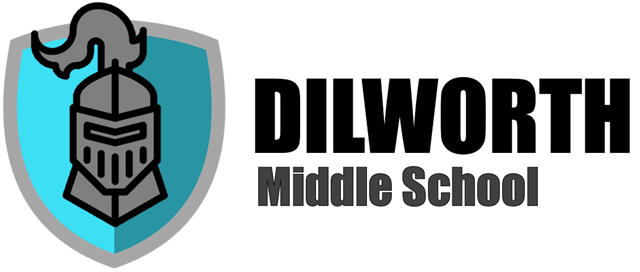 Vision Statement

Dilworth Middle School prepares each scholar for a successful and meaningful future.

Mission Statement

The mission of Dilworth Middle School is to create a safe, meaningful, and rigorous learning culture that will provide all students with the necessary foundation to be high school, college, and career ready.

Core Beliefs About Teaching and Learning

At Dilworth, staff are committed to:

A safe, trusting, and collaborative environment for all stakeholders.

High expectations for learning and student achievement.

Accountability for each student's social and academic growth with a focus on results.

Providing a guaranteed (consistent) and viable (doable) curriculum

Data-driven decision making.

Best instructional and social-emotional practices.
Dilworth Middle School in the 21st Century!

Students focus on complex hands-on activities to explore different design, construction, programming, and commercial applications relating to STEM and boost their knowledge and application in all of their coursework. Dilworth students are prepared for high school and beyond!

We are AVID!

Dilworth is proud to serve as an up-and-coming AVID school focused on career and college readiness for all students, focusing on WICOR (writing, inquiry, collaboration, organization, and reading).

AVID:

Teaches skills and behaviors for academic success,

Provides intensive support with tutorials and strong student/teacher relationships,

Creates a positive peer group for students,

Develops a sense of hope for personal achievement gained through hard work and determination.

As a result, policymakers and educators now consider AVID's mission to be an essential strategy for closing the achievement gap, making college access and success available to all students.
Dilworth Partners in Education
Contact Us
255 Prater Way
Sparks, NV 89431

Phone (775) 353-5740
Fax (775) 353-5584



School Hours


Monday, Tuesday, Thursday, Friday: 7:30 AM - 2:00 PM
Wednesday (Early Release): 7:30 AM - 1:15 PM



Office Hours


7:00 AM - 2:45 PM
Please call the school for summer hours of operation.
Dilworth Basics
Established

: 1961

Grades Served

: 6 - 8

Mascot

: Knights

Colors

: Black, silver, and teal
From the District...
Notice of Non-Discrimination and Web-Accessibility

The District prohibits bullying, cyber-bullying, harassment, sexual harassment, discrimination and/or retaliation in any of its educational programs/activities, employment, and employment opportunities. For the District's full Notice of Non-Discrimination statement as well as methods to address questions and concerns please visit our Notice of Non-Discrimination and Web Accessibility page. For more information, visit the Civil Rights Compliance Department page.

WCSD Parent Student Handbook

Access the District's Parent Student Handbook (English) (Spanish).