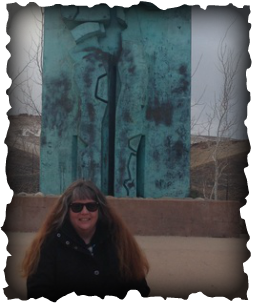 Phone:
Email:
Degrees and Certifications:
Mrs.

Andrea Ramelli

I've taught since 2005, starting as a Freshman and Sophomore English teacher at Sparks High School, and then moving into World History, World Cultures, U.S. History and A.P. U.S. History. I transferred to North Star Online School, an alternative learning environment within Washoe County School District, in 2015, where I teach "everything social studies". This includes World History, Geography, US History, American Government, Economics, and Personal Finance; North Star also offers most of these courses at Honors and AP Levels. North Star's integrated blended learning environment supports one-on-one tutoring, on-site computer labs and resources, collaborative peer work, blended lessons, and synchronous and asynchronous online lessons. This helps create a strong school community, allowing our students and teachers to develop supportive relationships while building 21st century skills. Helping students see the evolution of today's world through exploring global, national, and regional history while watching them make connections between historical and current events keeps teaching exciting for me.

"Chronic learner" describes me well; besides currently working on my Master's in Educational Technology, I actively seek out content, pedagogy, and technology-based learning opportunities. In addition to my master's courses, this past summer I attended a five-day "We The People" institute, which will enhance curriculum and activities for my American government and US History courses. During the school year, I participate in the district's social studies cohort which grew out of the now de-funded Teaching American History Project, which provides a wealth of content and strategies for our history classrooms, and I seek out opportunities to evaluate curriculum, textbooks, and school policies. I also participate in a 21st Century Leaders Network program through the Washoe County School District, and regularly participate in content-specific and pedagogical book clubs. If you're not seeking knowledge and positive change, you're not living.

Speaking of living, I've lived in Northern Nevada for the past 26 years, after originally moving to South Lake Tahoe from the Los Angeles area. I love Northern Nevada and all it has to offer, in terms of the people, scenery, activities, history, and open spaces. Prior to becoming a teacher I worked as an accountant for various companies, public and private, small and large. I repeatedly found myself training staff, interns, and clients on various programs and policies, and decided to combine an aptitude for teaching with my love of history, and returned to school to pursue my teaching credentials. I majored in Social Studies education at UNR, with a minor in English Language Arts, and enjoy finding ways to blend the two subject areas.

In addition to seeking out learning opportunities and finding ways to share them with my students, I enjoy spending time with my family (my household consists of my husband, one dog and two cats), reading, cooking, gardening, hiking, bicycling, camping, traveling, and exploring as many historic and cultural resources as I can find. In addition to the We The People institute I attended this summer, my husband and I embarked on a 3,300 mile road trip through Nevada, Oregon, Washington, Montana, Idaho, and a tiny slice of Wyoming, allowing me to indulge in my fascination with the American West.