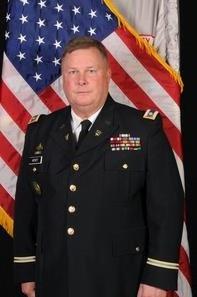 Phone:
Email:
Degrees and Certifications:
Major Paul M, Hovey
Major (MAJ) Paul M. Hovey, is the Senior Army Instructor at Robert McQueen High School since August 2003. MAJ Hovey was born October 12, 1958, Hollywood, Florida. His parents retired in Marysville, California, which is now home. He was commissioned a second lieutenant of Armor through the Reserve Officer Training Corp upon graduation from California State University Chico in December 1984. He received two Bachelor of Arts degrees in 17th and 18th Century European History and 18th Century European Culture. He holds a Masters of Science degree in Strategic Intelligence from the Joint Military Intelligence College.

He has served in a wide variety of important command and staff positions. His assignments include Cavalry Platoon Leader C Troop, 1st Squadron, 2d Armored Cavalry Regiment, and Squadron Border Officer responsible for 115 Kms along the West German, East German, and Czechoslovakian international border from June 1985 through October 1988. He served as the Squadron S2 (Tactical Intelligence Officer) for 3d Squadron, 3d Armored Cavalry Regiment, Fort Bliss Texas from July 1989 through July 1992, during that period he served with the Squadron during Desert Shield/Storm. He then served as the Assistant S3, commander G Company, and the S1 for Troop Command, Defense Language Institute, Presidio of Monterey, California form August 1992 through July 1994. He served has a joint test officer, as the End-to-End Test Team lead for the Joint Advanced Distributed Simulation, Joint Test Force, Kirtland Air Force Base, New Mexico, from September 1995 through June 1999. His last assignment was an assistant professor of military science, and battalion executive officer at Michigan State University Reserve Officer Training Corp from July 30, 1999 through 1 October 2003. He is a graduate of the Armor Officer Basic Course Fort Knox, Kentucky, the Military Intelligence (MI) Officer Transition Course, the MI Officer Advance Course, and the MI Imagery Analysts Course Fort Huachuca Arizona, and the Military History Instructor Course Fort Leavenworth, Kansas. MAJ Hovey completed his JROTC certification during June 2004, through Cadet Command at Ft Monroe, VA.

MAJ Hovey's awards and decoration include the Defense Meritorious Service Medal, the Meritorious Service Medal with two oak leaf clusters, the Army Commendation Medal with one oak leaf cluster, the Marine Corps Good Medal, National Defense Service Medal, Southwest Asia Service Medal with two service stars, the Saudi Arabian Kuwaiti Liberation Medal, and the Navy Meritorious Service Ribbon.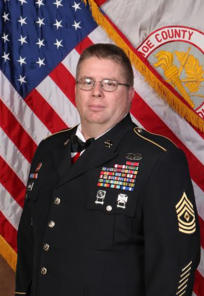 Phone:
Email:
Degrees and Certifications:
First Sergeant Timothy Curran
1SG Timothy Curran was born in Providence, Rhode Island. He entered the Rhode Island Army National Guard on October 23, 1987. He attended Basic Combat Training, Advanced Individual Training, the Meteorological Crewmember Course, the Meteorological Equipment Maintenance Course at Ft Sill, OK and in January 1992, the Supply Sergeant Course at Ft Lee, VA. He entered active duty on March 13, 1993. He has served in numerous Field Artillery leadership positions: Meteorological Team Chief, Meteorological Section Chief, Meteorological Station Leader, Platoon Sergeant, Battalion Operations Sergeant, Division Artillery Intelligence Sergeant, and First Sergeant.

1SG Curran has overseas assignments in Baumholder, Germany, and Camp Stanley, Korea. His stateside assignments include Fort Hood, Texas; Fort Sill, Oklahoma; Fort Stewart, Georgia and the Senior Military Instructor at Providence College ROTC, Providence, Rhode Island. 1SG Curran's career included three deployments in support of Operation Iraqi Freedom/Operation New Dawn, a deployment in support of Operation Enduring Freedom and a deployment in support of Operation Intrinsic Action. He has also served as the First Sergeant for Headquarters and Headquarters Battery (HHB), 4th Battalion 27th Field Artillery, 1st Armored Division; First Sergeant for HHB, 1st Battalion 84th Field Artillery; First Sergeant for HHB, 1st Battalion 76th Field Artillery, 3rd Infantry Division and First Sergeant for Headquarters and Headquarters Company, 4th Special Troops Battalion, 3rd Infantry Division.

1SG Curran is a graduate of the Primary Leader Development Course, Basic and Advanced Noncommissioned Officer's Courses and First Sergeant Course. 1SG Curran has received an Associate's of Arts Degree from the Thomas Edison State College, Trenton, New Jersey.

1SG Curran's awards and decorations include the Bronze Star (2 Oak Leaf Clusters), Meritorious Service Medal (2 OLC), Army Commendation Medal (4 OLC), Army Achievement Medal (2 OLC), Good Conduct Medal (7th award), Army Reserve Component Achievement Medal, National Defense Service Medal (w/Bronze Star), Korea Defense Service Medal, Global War on Terrorism Expeditionary and Service Medals, Afghanistan Campaign Medal w/Campaign Star, Iraqi Campaign Medal w/6 Campaign Stars, Noncommissioned Officer's Professional Development Ribbon (Numeral 3), Overseas Service Ribbon (7th Award), Military Outstanding Volunteer Service Medal, Army Service Ribbon, NATO Medal w/International Security Assistance Force Clasp, Combat Action Badge and awarded Honorable Order of Saint Barbara.

1SG Curran retired from active federal service on 31 July 2015 after 28 years of honorable and faithful service.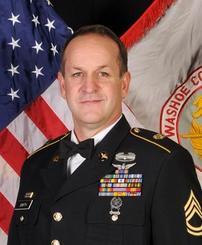 Phone:
Email:
Degrees and Certifications:
Sergeant First Class Stanley T, Smith

General Information and Civilian Schooling:

SFC Stanley Smith (R) Was Born in Reno Nevada. He grew up in Sparks Nevada and is a Graduate of Edward C. Reed High School and the University of Nevada-Reno.. He received his Bachelor of Science Degree from the University of Nevada-Reno.

Military Schooling:
SFC (R) Smith Graduated from U.S. Army Basic Training in the winter of 1984. His military education includes Basic Training and Repair MOS's on three Army Aircraft.

Significant Assignments:
He served for 24 years with the Nevada Army National Guard 113th Aviation. He held a full time Technician position as a WG-12 for 14 of his 24 years with the aviation unit. After retiring in in 2007, he accepted a position with the Nevada Highway patrol as a sworn police officer where he worked for three years. He left the NHP to persue position as an Army Instructor with JROTC in Nevada at Sparks High School before transferring to McQueen High School in Reno, NV.

Awards and Decorations:
Air Medal with "V" Device, Army Commendation Medal, Army Achievement, Airforce Achievement Medal Medal, Army Good Conduct Medal, National Defense Service Medal, Army Service Medal, Action Combat Badge.

Family:
SFC (R) is married to the former Shawna Lommel of Reno, Nevada and they have a son, Dawson, AKA Randy.