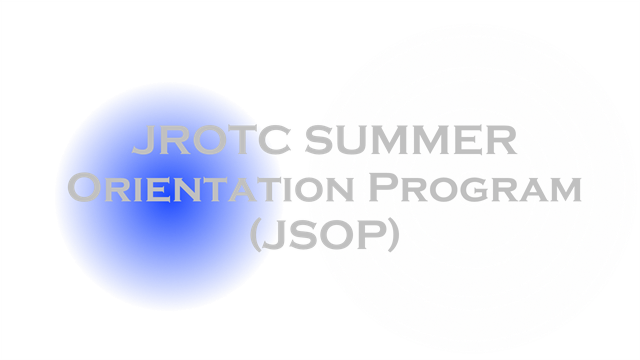 The Robert McQueen High School Junior Reserve Officer Training Corps (JROTC) program is conducting a Summer Orientation Program (JSOP) for all incoming freshman attending McQueen for the 2018-2019 school year. This is open for those thinking about enrolling in or are already enrolled in the JROTC program. The purpose of the orientation is to teach students how to be successful at McQueen High and make a smooth transition from middle school to high school. This program will take place at McQueen's JROTC department area, room 404 from Monday, July 23rd to Friday, July 27th from 8:00 AM to 12:00 PM.

---

Some of the benefits for joining JROTC include a P.E. credit for the first year and second year in JROTC, giving you all of your P.E. credits you need for High School. For doing JROTC for 2 years and 1 semester you'll get one health credit. Then if you stay in JROTC for all four years, you'll get an Honors credit. So long as you do the Capstone your senior year.

---

Monday

Tuesday

Wednesday

Thursday

Friday

Introduction to Battalion

**:** to **:**

Cadets will be put into Groups (Companies) and meet their Company Leadership

**:** to **:**

Color Guard and Drill Teams presentations

**:** to **-**

Introduction to what Physical Training (P.T.) is

**:** to **-**

Drill Practice (Outside)

**:** to **-**

Drill Practice (Outside)

**:** to **-**

Drill Practice (Outside)

**:** to **-**

Drill Practice (Outside)

**:** to **-**

Graduation

**:** to **-**

Food

**:** to **-**

Incoming cadets will meet with upperclassmen cadets, the Lancer Battalion Command Group (the top three cadets the are in command of the program), and also the instructors of the program. Cadets will be able to form lasting relationships within the program that will assist them in their Quests for Excellence during their four years of high school. Parents are also welcomed and encouraged to participate in the orientation. This is an opportunity for parents to see what the program is and ask any questions.

---

Cadets will see first-hand what leadership and being a good citizen is all about during the orientation. They will learn the Battalion Culture and do fun, interactive activities throughout the day.

---

The cost for cadets to attend the program is $20, and this fee goes toward the JSOP T-shirts and the luncheon. Parents and close friends are greatly encouraged to attend the final day of the orientation, which consists of the Company March Off, Graduation and a luncheon; the cost for the luncheon will be $5 per person for family and friends. At the end of the Orientation, cadets will receive certificates, their first promotion, and the Summer Orientation ribbon. The top cadet from each company will receive an Outstanding Lancing Certificate and a commendation ribbon.

---

If your cadet is interested in participating in the 2017-2018 school year JROTC Summer Orientation Program, please RSVP by Friday, July 13th, 2017. When RSVP'ing, please include your child's t-shirt size, their name and the number of family members you wish to participate in the luncheon. The person to contact is the Lancer Battalion S-1 Adjutant C/CPT Nevan Hemenway at mcqlancerbattalionstaff1@gmail.com or the Senior Army Instructor, Major Paul Hovey, at (775)746-5880 ext. 32194 or by email at phovey@washoeschools.net It is suggested that you refer to the Battalion website, www.lancerbattalion.com, for the complete schedule for the entire week of the summer orientation and to know what to bring each day. The schedule will be posted on the website if any changes are to be made. Feel free to contact us if you have any questions. We look forward to working with your cadet!